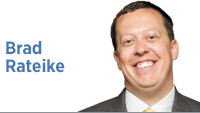 When you recover from a case of political exhaustion, you might consider watching "The Candidate," the 1972 film starring Robert Redford as the son of a fictional California governor who runs for the U.S. Senate. The movie is decent, but it is not as iconic (or life changing) as "The Sting" or "Butch Cassidy and the Sundance Kid," so, please forgive me while I spoil the ending. In the final scene of "The Candidate," Redford's character, after winning an upset election against the incumbent, asks his campaign manager, "What do we do now?" Before the question is even acknowledged, a crowd of reporters and supporters burst into the room and whisks Redford away to begin his new endeavor. Seconds later, credits roll.
Over the past few weeks, there have surely been more than a handful of "what do we do now?" conversations with new and recently reelected candidates. I can say that confidently because most of us will find it difficult to name three things the candidates we supported this election stand for (Gov. Eric Holcomb excluded). The easy answer to Redford's question should be, simply this: Brand yourself.
On election night 2020, there were plenty of Indiana campaigns prepared with spin for why they did not win. Some Indiana Republicans were prepared to say that President Trump was going to underperform and potentially "tank" the down ballot races (5th Congressional District, Senate and House races). The strong Indiana GOP results made this argument largely moot. Indiana Democrats had a difficult night and have (privately, and in some cases publicly) placed blame on the poor performance of their gubernatorial candidate and his lack of electoral coattails as reason for their own statewide anemic performance. This may be legit. Bbut I also think that few of these campaigns felt an obligation or a sense of urgency to establish their own identities as part of their campaigns.
Pro tip: Define what you stand for. Just like in business, if you do not define yourself, your competitors will define you. And that is why you need to know the difference between "press" and "communications" strategies. A press strategy announces the story; the communications strategy shapes and amplifies the story.
And for those candidates who understand their obligation to educate their constituents, remember that repetition is critical. A press operation will push facts and details. To complement that, a strategic communications effort will need to push the relevancy of those facts and provide perspective—again and again.
The unsolicited political mail you receive at home is designed to brand what a candidate for office looks and feels like. But the end of the election season is packed full of these messages—and the voters' bandwidth for taking it all in is limited. That is why I believe that elected officials, and aspiring candidates, can and should work harder (and smarter) on how they talk to their constituents about what they stand for and what they are doing—year round. If they do that effectively, outside and potentially adverse political influences beyond their control will be less likely to marginalize their message.
Few people are born with name ID and credibility, but if you have the chance to strategically earn it, why would you pass on that?•
__________
Rateike is founder and owner of BAR Communications and served as director of cabinet communications for President Donald Trump. Send comments to ibjedit@ibj.com.

Click here for more Forefront columns.
Please enable JavaScript to view this content.