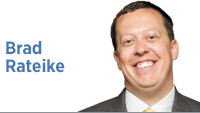 If you have not experienced the White River Yacht Club, it is one of the "hidden gems" of Indianapolis. Tucked away in the Ravenswood neighborhood, just west of East 74th Street and Keystone Avenue, WRYC is a members-only social club that was established in 1938 along the banks of the White River.
To my knowledge, it is a "yacht" club no yacht has ever seen, and no vessel that has ever docked there has been featured on "Lifestyles of the Rich and Famous." Quite the opposite. It has great food, cheap drinks and even better people.
WRYC has professional staff who run a food and beverage operation and keep the books, but it is largely run by volunteers. Though largely viewed as a "blue collar" club, it is not uncommon to find a "titan of industry" having a beer with the same guy who built his deck that day. This is part of the unassuming charm of the place.
What I have found most appealing about WRYC is its unofficial John F. Kennedy-esque charge to members: "Ask not what your club can do for you, but what you can do for your club." WRYC has operated on a foundation of servant leadership since its inception. Members are expected to not only pay their (modest) financial obligations, but also to contribute as much of their time, talent or treasure as they can—when they can—to club initiatives.
This includes, but is not limited to, more deep cleaning and trash collection than I have done since my freshman year at my fraternity house. It made sense when I remembered that the trash is not going to pick itself up. Since the club has a 100-person waiting list that fills back up every fall, I know that, if I do not want to lend a hand, someone else will. This is not the Delta house at Faber College where they "need the dues."
Every July 3, a longtime club member named Charlotte Smith and her family put on one of the best fireworks shows in the Midwest over the White River, paid for entirely by private donations, much of that from WRYC members. This will be their 51st year providing this hour-long show for all to enjoy. As Charlotte says, "Every dollar raised goes up." Thank you, Charlotte.
On Aug. 20, WRYC will host its annual antique car and boat show, put on entirely by volunteers (and open to all) and done solely for the purpose of raising money for Riley Hospital for Children. The event is co-chaired by Mike Boone, a club member of more than 50 years whose granddaughter's life was saved by the Riley team during her battle with ocular cancer. Thank you, Mike.
WRYC, by social club standards, is unique in many ways, but it is not necessarily "more special" than any other organization. However, during a time when "entitlement" in society seems to push new limits, I appreciate that WRYC reminds me I am entitled to nothing, but that there exists the hope and expectation that I will give freely and generously what I can, when I can.
It is easy for people, yours truly included, to take for granted the privileges/benefits that membership in a social club or organization provide. However, if we all viewed our participation in these groups through the WRYC lens of not asking what our organizations can do for us, but what we can do for them, I'll bet our experience, and the organizations themselves, would all be better.•
__________
Rateike is founder and owner of BAR Communications and served as director of cabinet communications for President Donald Trump. Send comments to ibjedit@ibj.com.

Click here for more Forefront columns.
Please enable JavaScript to view this content.