When will it be time to lift restrictions on the economy?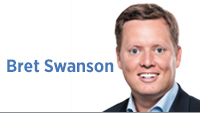 Indiana can get back to business when we replace the early macro response to COVID-19 with a more sophisticated and creative micro strategy.
Information will be our chief weapon against the virus. Our initial defenses were so broad and blunt—and thus so economically destructive—because we knew so little. Without knowledge of the virus's whereabouts, spreading rate, vulnerable targets, unwitting accomplices and possible therapies, closing nearly all workplaces and schools seemed the only response.
We can get Indiana and the world back to work when we have enough information to suppress the virus with testing, tracing and treatment. A year from now, we should have a vaccine, but until then we will have to deploy an agile, multi-faceted strategy of smart engagement.
We now know who is particularly vulnerable and in need of special protection: the elderly and those with lung disease and diabetes.
After several more weeks of widespread physical distancing, we should begin widespread testing—ideally with quick, inexpensive kits delivered to American homes. Tens of millions of tests will yield the information necessary to isolate carriers, even asymptomatic ones, and to know who is still vulnerable and who is immune. We could also establish safe and risk zones.
Singapore, which has effectively employed digital contact tracing, plans to open-source its mobile app. Based on Bluetooth links among mobile phones, not GPS, it tracks interactions voluntarily and anonymously and alerts participants via text message if they are near someone who tests positive. A team at the Massachusetts Institute of Technology has developed a similar app but with even more robust privacy protections. Anonymous surveillance could also pinpoint especially dangerous super-spreaders before they do worse damage.
Testing and tracing, with heightened hygiene, could allow us to reengage in most work and social spaces. Even an imperfect testing regime would dramatically slow the spreading rate, liberate the immune, and likely flip the cost-benefit equation in favor of a return to work.
Testing and tracing must be reinforced by an all-out sprint to new therapies. We are already successfully treating some patients with hydroxychloroquine and serological antibodies. But computational biology, in which info-tech supercharges medicine and makes it programmable, can target the SARS-CoV-2 virus with spectacular precision.
By this summer, we might have an engineered monoclonal antibody, such as Centivax, and Eli Lilly and Co. has partnered with AbCellera for another possible antibody solution. Gilead is manufacturing its experimental anti-viral Remdesivir ahead of possible government approval. The U.S. Food and Drug Administration was catastrophically slow at the start of the crisis, but it can redeem itself by speeding these and other treatments to market.
Meanwhile, we must leverage the internet even more than we already have—digitizing as many physical goods and interactions as possible. Entrepreneurs and community leaders are mobilizing to great effect, but we need even more.
This strategy—based on the information technologies of testing and tracing, computational biology, and internet intermediation—can in a relatively short period overcome many of the brutal limitations of our physical world. It won't produce zero cases. But it can give public health professionals and policymakers the confidence necessary to reopen the economy.
The more vigilant Hoosiers are with physical distancing, personal hygiene and participation in testing and digital tracing, the faster we can get back to work and back to one another.•

Click here for more Forefront columns.
Please enable JavaScript to view this content.