Should the Legislature approve a cigarette tax increase in 2020?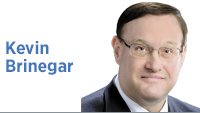 Indiana's smoking rate is 50% higher than the U.S. average and getting worse. The latest American Health Rankings reveal that our state's smoking rate increased to nearly 22%, which is 44th-worst among the 50 states (Indiana previously ranked 39th-worst). Other states are making progress—or at least not going backward as Indiana is.
We have done so well when it comes to making this a great state to grow businesses and jobs, but we cannot truly be among the best places to work and live without dramatic improvement in this area.
Indiana's smoking prevalence results in tragic individual and family health consequences, including thousands of teens on course to becoming lifelong smokers. It also proves costly to communities and businesses—to the tune of more than $6 billion annually in increased health care costs and lost productivity.
The Indiana Chamber of Commerce and the Alliance for a Healthier Indiana continue to advocate for improving health outcomes for smokers through increasing the cigarette tax by $2 a pack and raising the legal smoking age to 21—the latter now even more urgent given the vaping crisis.
Currently, revenue from the state's 99.5-cent-per-pack cigarette tax does not even raise enough money to cover the additional cost to the Medicaid program for individuals with smoking-related diseases. Even a tobacco-rich state like Kentucky crossed the dollar threshold for the tax in 2018. The national cigarette tax average is $1.81.
Raising Indiana's cigarette tax $2 per pack will create a much higher barrier of entry for young people and prevent many of them from starting to smoke, not to mention being an incentive for others to quit.
The Indiana Chamber is the state's largest business advocacy organization, but we cannot endorse the tobacco retailers' stance that an increased tax will hurt their profits. That's not a winning argument when nicotine is highly addictive and a factor in so many diseases and deaths.
It's also impossible to ignore that public sentiment has changed about smoking.
State after state has made public places smoke-free. Cigarette tax increases have been widely seen as an effective method for discouraging smoking. And now 19 states (Pennsylvania joined the ranks in late November) have raised the age for tobacco purchases to 21.
In a survey we commissioned in late 2018, 62% of respondents supported an increase in cigarette taxes, with 44% falling in the strongly support category. The numbers are even higher on raising the legal age, with total support of 65% and strong support at 52%.
What would have the most impact for Indiana is for the General Assembly to tackle both policies.
It's irrelevant that the upcoming session isn't a budget-making one. If legislators believe the cigarette tax needs to be increased—and it does—there's no real reason to wait.
We are encouraging lawmakers to go ahead and pass the cigarette tax in 2020 and, if they deem a delay essential, set implementation for 2021. Let's put the health of Hoosiers first.•
__________
Brinegar is president and CEO of the Indiana Chamber of Commerce. Send comments on this column to ibjedit@ibj.com.

Click here for more Forefront columns.
Please enable JavaScript to view this content.