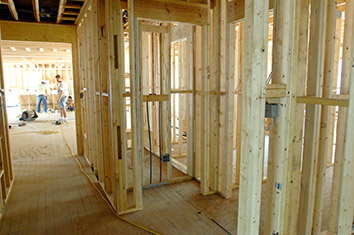 Demand for new homes remained high in central Indiana in July, according to the latest numbers from the Builders Association of Greater Indianapolis.
Builders in the nine-county Indianapolis area filed 829 single-family building permits during the month, up 7% from July 2020, when 775 permits were filed.
So far this year, 6,539 permits have been filed in the area, up 39% over the first seven months of 2020. More filings have already been filed in the first seven months of this year than in all of 2017 (6,198).
Filings in central Indiana have risen on a year-over-year basis for 14 straight months and for 19 of the past 20 months.
County by county
– In Marion County, permit filings were up 6%, from 108 in July 2020 to 114 last month.
– New-home hotbed Hamilton County saw 284 filings last month, a year-over-year increase of 29%.
– Hendricks County's numbers rose 4% in June, to 125.
– Hancock County saw permits rise 60%, to 67.
– Johnson County saw a 9% decrease in filings last month, to 91.
– Filings were down 59% in Boone County, to 59.
– Madison County filings decreased 44%, to 32.
– Morgan County filings rose from 35 to 37, an increase of 6%.
– Filings jumped from eight to 20 in Shelby County.
National home construction numbers
Nationally, home construction fell 7% in July compared with June as homebuilders struggled to cope with a variety of headwinds.
The July decline put home construction at a seasonally adjusted annual rate of 1.53 million units, the Commerce Department reported Wednesday. It was the slowest pace since April but was 2.5% higher than a year ago.
Applications for building permits, which can forecast future activity, rose 2.6% in July from the June level to an annual rate of 1.64 million units. It was the first monthly increase in permit applications since March.
Construction starts for single-family homes fell 4.9% in July to an annual rate of 1.11 million while construction of apartments of five units or more dropped 13.6% to a rate of 412,000 units.
Home construction was down in every part of the country except the South where housing starts rose 2.1%. The biggest decline was in the Northeast, a drop of 49.3%, followed by declines of 11.3% in the West and 6.9% in the Midwest.
According to a survey of builder confidence, expectations fell sharply in August to the lowest level in a year as builders struggled with high costs, supply shortages and rising home prices. Expectations dropped five points to a reading of 75 in the National Association of Home Builders/Wells Fargo survey.
While the peak of the housing frenzy may be past, economists believe strong demand will continue to drive the market.
"Housing demand and sparse inventory will give builders strong reasons to maintain solid levels of construction," said Oren Klachkin, lead U.S. economist at Oxford Economics. "However, high materials prices, a limited supply of workers and limited land availability will constrain activity."
Please enable JavaScript to view this content.