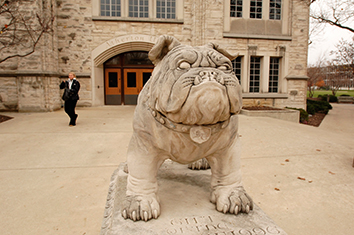 Butler University has been rated the No. 1 regional university in the Midwest for the third year in a row by the U.S. News & World Report's annual "Best Colleges Rankings."
The Indianapolis-based university also finished first in its class for "Most Innovative School" and was tied for third for "Best Undergraduate Teaching" among Midwest regionals in the latest edition of the magazine's influential rankings, released Monday.
Researchers said Butler scored well for its high percentage of small classes (49.6% percent have fewer than 20 students), its low student-faculty ration (11:1), and its average 6-year graduation rate (77%), among other factors.
"Our rankings are reflective of Butler's commitment to our students," Provost Kate Morris said in a media statement. "By emphasizing innovation within our curriculum, we provide students with educational experiences that prepare them to adapt to challenges and changes throughout their careers."
The University of Evansville ranked fourth in the same category, while Indiana Wesleyan University in Marion was tied for 15th. Marian University in Indianapolis was tied for 28th. Anderson University was tied for 51st.
Regional universities are defined as offering a full range of undergraduate programs and some master's programs, but few doctoral programs. These rankings are split into four regions—North, South, Midwest, and West.
In the "National Universities" category, the highest-rated school in Indiana was the University of Notre Dame, listed at 19th. It also was ranked 26th among all schools for "Best Value."
Purdue University in West Lafayette finished tied for 53rd in the national category, and Indiana University in Bloomington was tied for 76th. Purdue also was ranked fifth among "Most Innovative Schools." Purdue's agricultural/biological engineering program was ranked No. 1.
IUPUI was No. 196 among national universities, and University of Indianapolis was tied for 227th. Ball State University was No. 284, and Indiana State University finished among schools lumped together in the Nos. 298-389 ranking.
For the 22nd straight year, Rose-Hulman Institute of Technology in Terre Haute topped the rankings for "Best Undergraduate Engineering Program" in the subcategory for schools that don't offer doctorates.
Among the nation's liberal arts colleges, DePauw University in Greencastle ranked 47th, and Wabash College in Crawfordsville was tied for 54th. Franklin College in Franklin was tied for 136th.
Taylor University in Upland finished No. 2 among Midwest regional colleges, while Goshen College in Goshen ranked seventh.
Princeton University repeated as the No. 1 national university, followed by Harvard University at No. 2 and Columbia University at No. 3.
U.S. News & World Report noted that its latest rankings data pertains to student and faculty cohorts that predate the coronavirus pandemic, and thus the impact of COVID-19 on higher education is not reflected in how schools performed overall.
Please enable JavaScript to view this content.