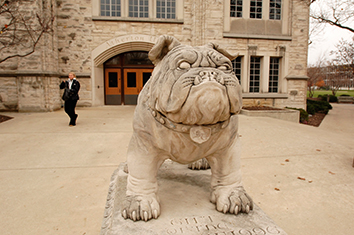 Butler University has surpassed the $250 million fundraising goal for its "Butler Beyond" campaign, the school announced Monday.
The campaign—the largest in university history—was quietly launched in June 2015 and raised $171 million by the time it was publicly announced in October 2019.
So far, 34,622 donors have participated in the campaign, including 1,909 who contributed $588,800 last week as a result of Butler's Day of Giving on Feb. 17, the university said.
Nearly 82 percent of all donors to the campaign contributed $1,000 or less. Butler said 13,351 individuals became first-time donors to the university.
Butler will continue to accept gifts to the campaign through May 31.
"On behalf of Butler students, faculty, and staff, I am profoundly grateful for the investments made during this campaign, which have provided a strong foundation for the future and will touch the lives of Butler students for generations to come," Butler University President James Danko said in written comments.
Butler said the campaign will expand access to a Butler education through $62.5 million in new student scholarship support, including 60 new endowed scholarships.
More than $28.4 million was raised for the new 110,000-square-foot business school, which will be named Bill and Joanne Dugan Hall. The Dugans, who met as students at Butler in the 1940s, donated $7 million for the facility.
Donors also contributed more than $32.9 million for the $100 million Sciences Expansion and Renovation project and more than $10.7 million toward a second phase of renovations to Hinkle Fieldhouse.
Other major gifts came from the Lilly Endowment ($10 million), the Dennis Dickos estate ($5 million), Jay and Christie Love ($4 million), Craig Fenneman ($1 million) and Rollie and Cheri Dick ($1 million).
Please enable JavaScript to view this content.