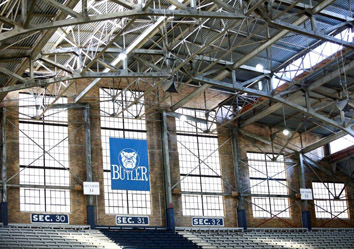 Butler University's basketball program has received approval from Marion County health officials to provide game seating equal to 25% of Hinkle Fieldhouse's capacity, beginning with the men's home opener on Nov. 25.
The fieldhouse on the Butler campus in the north side of Indianapolis seats about 9,100 people, so 25% of capacity would equal about 2,300 fans.
The university announced the decision by the Marion County Department of Public Health early Sunday afternoon.
Safety precautions will include a requirement to wear facial coverings, submitting to temperature checks and sitting according to distancing guidelines, the university said.
As a result of the limited capacity, Butler will not offer season tickets for the 2020-21 season, according to Athletic Director Barry Collier.
"Tickets will be made available in blocks, consisting of 2-4 games each, first to those who were season ticket holders last season or had already placed a deposit for this season," according to Sunday's announcement from Collier.
"Communication to those fans will come directly from the Butler Athletics Ticket Office. Any remaining inventory will be made available to the general public. Some of our season ticket holders have previously informed us that they are 'opting out' this season; we are excited to welcome them back in future seasons," Collier said.
Please enable JavaScript to view this content.