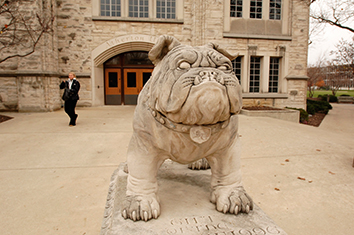 Butler University on Saturday announced that it has already raised $171 million from 27,000 donors during the "quiet phase" of its largest ever comprehensive fundraising campaign.
The fundraising effort, named "Butler Beyond: The Campaign for Butler University," hopes to raise at least $250 million overall by May 2022 as the school embarks on what it is calling a "new strategic direction" that will "deliver transformative change to the university, region, and the world."
In announcing the public phase of the campaign, Butler officials said the quiet part of the effort was launched in June 2015. Big donors so far include the late Andre B. Lacy and his wife, Julia, who donated $25 million to the school, including $5 million toward the new $50 million business school building that opened this school year.
Officials said the new strategic direction will build on Butler's traditional strengths in offering an undergraduate residential education while expanding opportunities for lifelong learning and educational pathways that are more affordable and efficient.
Those new opportunities are expected to include growth in customized corporate education programs, non-degree certificates and credentials, joint programming with secondary education and community-focused partnerships.
"Butler's founding mission that everyone deserves access to a high-quality education regardless of race, gender, or socioeconomic status will be the guiding light for Butler Beyond as the university aims to re-imagine a Butler education," the school said in a written statement.
Butler President James Danko told IBJ the university's goal is to launch a broad initiative around continuous, lifelong education. What exactly that looks like will be fluid, he said.
For example, the school is already engaged with coding school Kenzie Academy to determine programs Butler might be able to offer students who aren't necessarily looking for a four-year degree but are interested in courses beyond what the academy offers.
The university also met with Gov. Eric Holcomb about ways Butler can be an educational partner to growing tech companies such as Infosys, Danko said.
Big support
Butler said the donation from the Lacy family prompted 11 additional families to donate $1 million or more each toward the new business school.
Other big quiet-phase donations have come from the Richard M. Fairbanks Foundation ($13 million), 1975 alumnus Frank Levinson ($5 million) and emeritus trustee chair Craig Fenneman ($2 million).
More than $29.5 million has been raised toward a total philanthropic goal of $42 million to help pay for a planned $100 million investment in the renovation and expansion of the school's sciences facilities.
Another $10.5 million has been raised for the $46.5 million two-phase restoration project for Hinkle Fieldhouse, bringing total donations for that project to $32 million. The Efroymson family has donated $2 million toward that effort.
A $2 million gift from Hershel and Ethel Whitney was used to establish the Hershel B. and Ethel L. Whitney Chair in Biochemistry.
Old National Bank agreed to donate $5 million in 2017 to establish the Old National Bank Center for Closely Held Business, which provides privately owned businesses in Indiana with training, education, mentoring and networking opportunities.
Butler said the fundraising campaign is organized around three philanthropic pillars: Student access and success; innovations in teaching and learning; and community partnerships.
Student access and success
To address higher education affordability, growing the university's financial aid program through donor-funded scholarships will be essential, the university said. In addition, welcoming students of all ages, life stages and backgrounds will require excellent student support services.
Last school year, the university provided more than $78 million in scholarships to students. Of that total, only $3.2 million was funded through scholarship endowment or other philanthropic support. Closing that gap is essential to removing financial barriers for all students, the university said. Growing the scholarship endowment and the annual Butler Fund for Student Scholarship will be key funding priorities during the campaign.
Innovations in teaching and learning
Recruiting, developing and retaining top educators and scholars is another goal of the campaign. State-of-the-art facilities for teaching and research, as well as funding to support ongoing training and development, are crucial for recruiting and keeping top talent, the university said.
Among the key funding priorities in the category are the growth of Faculty Opportunity Funds, the $100 million sciences expansion and renovation project, and the new $50 million building for the Andre B. Lacy School of Business.
Community partnerships
Strengthening community partnerships is a primary goal of the new strategic direction and campaign funds will be directed toward that effort.
Increasing Butler's engagement with businesses, community organizations, educational providers and government entities will lead to new academic programs, ventures and experiences, including experiential learning opportunities, for Butler students, the university said.
A key funding priority for community partnerships is the newly established Transformation Fund, which will fuel the development of educational models and advancing projects that contribute to the university's long-term vision of providing different learning opportunities.
Please enable JavaScript to view this content.