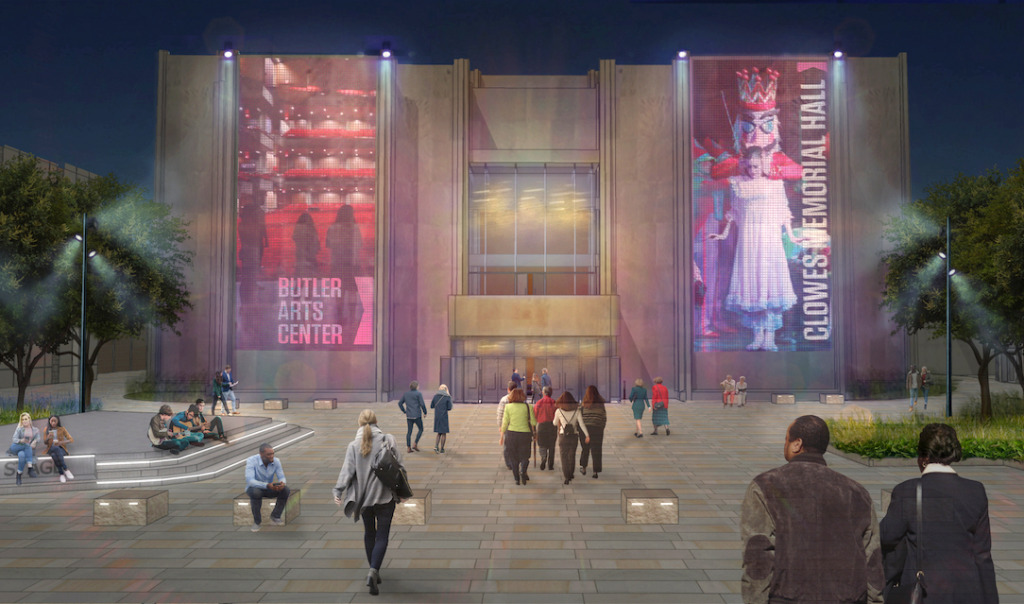 Butler University has received a $1 million grant to help fund a $4.5 million plan to revamp the lobby, entrance and exterior plaza for 58-year-old Clowes Memorial Hall, the university's flagship performing arts venue.
The $1 million grant from the Indianapolis-based Allen Whitehill Clowes Charitable Foundation will allow the university to modernize the lobby and entrance for the 2,148-seat venue while addressing safety and security concerns, the university announced Friday.
Clowes originally was designed to allow visitors to enter from all three sides of the lobby, but current security policy has limited the use of exterior doors for guest entry. The redesigned main entrance on the south side of the venue will feature a glass-enclosed marquee and second-level event space that will link the east and west sides of the second-level lobby.
The new design also will remove the current wall between the box office and the lobby, allowing in more natural light. The number of metal detectors at the entry will be increased from four to 10, more than doubling the speed with which visitors can enter the building for major events.
"Ease of getting into the building in a safe way and flow once you're inside will all be vastly improved by this redesign, and I think that's really going to improve the experience a lot for our guests," said Aaron Hurt, executive director of the Butler Arts & Events Center.
Construction on the entryway project will begin May 1 and should be complete by the time students return to campus at the end of August.
The new entryway is the first phase of a larger plan to redesign the entire exterior plaza of the venue for greater security and functionality. The new, paved plaza will include a small outdoor stage for hosting pre-show events, outdoor concerts, and student performances.
The parcel staked out for the plaza currently is an undeveloped lawn.
The plaza will include new concrete bollards—short, flat posts that will serve as both seating around the stage as well as a protective perimeter for the venue. The plaza also will provide a central rallying point for student events and a gathering space for the community.
The University hopes to raise an additional $3.5 million to help fund the exterior plaza project in coming months.
Please enable JavaScript to view this content.