Butler University marked the grand opening of its new Esports Park on Thursday with a big announcement. The university said the facility—for which plans were announced in 2019—will host the 2023 Big East Conference Esports championships in March.
The 7,500-square-foot Butler Esports Park will officially open to the community on Friday. The facility includes PC and console gaming and event space, as well as co-working spaces, a studio and production room, and a cafe.
Butler will host the 2022-23 Rocket League EGF/Big East Tournament and the spring 2023 League of Legends Big East Championship, both of which are scheduled for March 24-26.
"The Big East Conference has sponsored esports competitions for the past several years, and we are very excited to be staging the first in-person conference championships for our gamers at Esports Park next spring," Big East Commissioner Val Ackerman said in written remarks. "We applaud Butler's leadership in this area and expect this spectacular state-of-the-art facility to serve as the perfect venue for our esports participants this year and beyond."
The university said the League of Legends championship will feature a four-team split bracket with the winner automatically qualifying for the 2023 Collegiate League of Legends Tournament.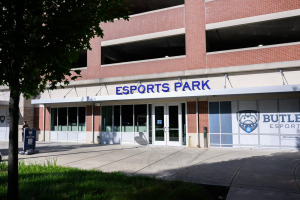 Nine Big East teams will compete for the Rocket League Conference Championship, with the top two finishers receiving automatic bids into the EGF Rocket League National Championship.
Seton Hall University won both championships this past spring.
Butler broke ground on the Esports Park last year after a pandemic-caused delay. President James Danko said the Big East championships represent the first of many future competitions "that will continue to establish Butler University and the city of Indianapolis as a national leader in esports and sports technology."
The facility also includes office space for tenants, including Challonge, a software-as-a-service company owned by California-based Logitech that focuses on esports competition management.
In August, Butler announced esports organization and gaming content network Beastcoast would also set up shop at the Esports Park.
The Butler Esports Park is part of the university's increased investment in esports that began with an Esports and Gaming Lounge in Atherton Union on the Indianapolis campus.
Last year, Butler introduced an 18-credit-hour minor that provides students with a foundation in esports production, communication, business and marketing and allows students to choose a focus area from among multimedia graphics, leadership, sales, entrepreneurship or media analytics.
Please enable JavaScript to view this content.