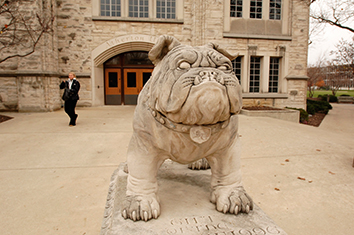 Butler University has decided at the last minute to start its fall semester on Monday with students on campus but taking undergraduate classes online, after an increase in coronavirus cases and evidence some students aren't following safety guidelines.
Instruction will be remote for two weeks, university officials said in an announcement Sunday. Dozens of students have been charged with failing to follow safety protocols.
"In the past 48 to 72 hours, we have observed lack of compliance with health and safety guidelines among a relatively small proportion of our students, resultant increases in the number of students testing positive or displaying symptoms of COVID-19, and projections regarding future cases as a result of contact tracing," according to a university spokeswoman.
"We are therefore taking decisive action now to prevent the exponential spread of the virus that has occurred at other campuses," she said.
The spokeswoman said the school would not comment further for the media at this time, beyond a statement made to students and families by President James Danko.
About 50 students have been charged with violating the school's Student Commitment for Personal and Community Well-being, a detailed set of directives for students enrolled in the 2020-21 school year. Students found in violation will be "sanctioned," Danko said, possibly including removal from campus.
Most students have been following new safety protocols, Danko said. However, there have been violations by a small percentage of students, including violating quarantine and self-isolation protocols, not responded truthfully to daily health check-ins, not complying with contact tracing efforts, and hosting or attending on- and off-campus parties.
Student health screenings up through Aug. 19 indicated a 0.5% positivity rate on campus. But since that time, the positivity rate has increased to about 2%, Danko said.
"In addition, an increasing number of students have reported COVID-19 symptoms, and we are able to link these increases in confirmed positive cases and symptomatic individuals to the non-compliant behaviors," he said.
About 75 students have been identified through contact tracing as close contacts to a positive case and have been placed in quarantine as a preventative measure.
During the two weeks of remote learning, students will not be able to access any campus facilities other than residence halls, dining facilities, and outside spaces.
Butler had a total undergraduate enrollment of about 4,700 in the prior school year, according to U.S. News & World Report's most recent list of best colleges. Butler ranked No. 1 on the list among regional universities in the Midwest.
Butler isn't alone in shifting its plans on the fly as academic years begin on campuses across the country.
Other universities have brought students back only to reverse course and move classes online amid outbreaks linked in some cases to student housing and parties. Notre Dame and Michigan State universities are among the latest to announce the switch last week. The University of North Carolina at Chapel Hill said it would revert to remote learning after clusters of the virus were discovered in dorms, a fraternity house and other student housing.
Purdue University suspended 36 students Thursday for attending a party on the same day that President Mitch Daniels made it a violation to host or attend a party not following social distancing and mask guidelines.
Some say students are being set up to take the blame. A UNC-Chapel Hill student newspaper editorial said leadership there "should have expected students, many of whom are now living on their own for the first time, to be reckless."
Please enable JavaScript to view this content.