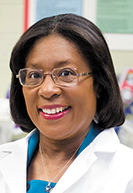 Marion County is lagging in its race to reach herd immunity from COVID-19 as more transmissible variants close in.
Just more than 16% of county residents were fully vaccinated as of Saturday, said Marion County Public Health Department Director Dr. Virginia Caine at a news conference Tuesday. That falls far short of the 80% of residents that Caine said need to be vaccinated for the county to reach herd immunity and halt person-to-person spread of the virus.
"Especially in light of the variant, resistant strains … 80% [is] my target for herd immunity," Caine said.
Variants first detected in Brazil, California, the United Kingdom and South Africa have all made it to Indiana. The mutated viruses spread more easily and can cause more severe complications.
The county health department does not have local data on variants, Caine said, but more than 100 cases involving variants have been reported statewide. Nationally, confirmed variant cases topped 16,000 on Monday, according to the Centers for Disease Control.
"We're in a race right now: reaching that herd immunity before we see a widespread rate of those new mutated strains," Caine said.
Tuesday's press conference, which included Indianapolis Mayor Joe Hogsett, came on the heels of the NCAA Men's Basketball Tournament, which ended with Monday night's championship game at Lucas Oil Stadium.
One University of Alabama fan died days after he attended the tournament. Caine said "a handful" of people who attended the tourney in late March were contacted regarding potential exposure to COVID-19.
"Yes, I expect now to see a surge," Caine said, although she was hopeful the health department would see a "milder and a lower surge" compared to the one seen in December, based on how gradual the recent increase in cases has been.
"Other counties around the state have had their indicators worsen by quite a bit more and they have not been hosting, for example, the NCAA tournament," Caine said.
Marion County's 4% test positivity rate is lower than nearly all other central Indiana counties besides Shelby County, and is on par with Morgan County, as of March 28, according to the health department.
Hogsett said that the tournament "proved to the world that we can responsibly host major events. That, more than anything else, is my takeaway."
Please enable JavaScript to view this content.