A fast-growing California-based company that runs a private online health insurance exchange is opening a regional headquarters in Indianapolis where it plans to hire up to 500 highly-paid workers by 2023.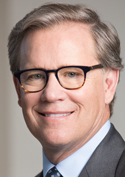 The company, eHealth Inc., said Monday afternoon it would invest more than $10 million over the next three years to establish Indianapolis as its Eastern U.S. technology and operations headquarters.
Gov. Eric Holcomb and Mayor Joe Hogsett were scheduled to join company officials to make the announcement at the site, 9190 Priority Way West Drive, north of the Fashion Mall on the city's northeast side.
The company, based in Santa Clara, California, is led by CEO Scott Flanders, a former Indianapolis executive and a graduate of Ben Davis High School and the Indiana University Maurer School of Law.
"I have deep roots in Indy," Flanders told IBJ. "I was very confident that this market would be able to produce the talent level that we needed to build our business."
Many of the jobs will be for sales agents who answer phones and help customers select insurance plans. The company said it trains the workers to become licensed insurance agents. The company is also hiring technology engineers and product specialists.
Average wages will be $88,000 a year, but about one-quarter of the workers will make six-figure salaries, Flanders said.
The Indiana Economic Development Corp. offered eHealth up to $11.3 million in conditional tax credits and $200,000 in training grants based on the job-creation plans. The incentives hinge on the company's ability to meet hiring goals.
eHealth said it has recently hired 125 employees in Indianapolis and already has taken over two floors of the building on Priority Way West Drive, totaling 56,276 square feet of space. It has signed a lease to take over the entire 81,515 square foot building by November 2023.
The company said the expansion was driven by a huge growth in business that is requiring more people to answer phones and help customers, many of them senior citizens, seeking information about health insurance.
In each of the last two years, the company said it had 135,000 calls from seniors during the annual enrollment period it was unable to answer.
"We did not have adequate phone capacity to help these seniors get into the right Medicare plan," it said.
The company has already expanded its three existing call centers in California, Utah and Texas and decided it needed to add another location, preferably in the eastern time zone.
It had conducted an evaluation of 19 cities, and Indianapolis was ranked highly on the list. Flanders said he decided to push Indianapolis to the top.
"I intervened, which I don't do often as CEO, and I said 'look, let's go to Indy,'" he said. "I guarantee you from my experience and my relationships there we will have a terrific workforce pool. The city and the state will be receptive to our arrival."
The company operates a private online health insurance exchange, where individuals, families and small businesses can compare health plans from insurers and enroll in coverage online. It is licensed to sell in all 50 states.
Business has been growing at a rapid clip, with revenue last year of $251.4 million, up 32% from a year earlier.
Flanders joined the company three years ago, leaving his previous job as CEO of Chicago-based Playboy Enterprises Inc. to take the position. He was already serving on eHealth's board of directors and was asked by other board members to take over the company when the previous CEO retired.
Flanders' first executive role was as president of Macmillan Publishing in Carmel, from 1986 to 1998. In 1999, he founded Telstreet.com in Indianapolis, an Internet retailer of wireless phones, services and accessories that was bought in 2000 by Buy.com Inc., now known as Rakuten.com, for $4 million.
Before joining Playboy 2009, he was CEO of newspaper and broadcast chain Freedom Communications Inc. in Irvine, Calif. He was a member of IBJ's 40 Under 40 class of 1995.
Please enable JavaScript to view this content.