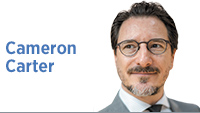 "There's the dam! I saw it first!"
This exclamation about NIPSCO's power-generating Norway Dam on Lake Shafer was invariably a point of competitive pride between my brother and me as our family drove from our Kokomo home to the mid-century lake cottage my grandparents had built in Monticello. The dam was a symbol of arrival, of rest and relaxation, a fun summer spent on the lake. Right around the dam's upward curving road was another welcoming sight—Indiana Beach.
No more. The California-based company that bought the 94-year-old amusement park five years ago is shuttering Indiana Beach. A part of my and many a Hoosier (and Chicagoan) childhood is going away. Nostalgia is not enough to keep the lights on and the Ferris wheel turning. By this summer, that Ferris wheel may be gone and the roller coasters silenced, dismantled and moved across country to be reassembled at Apex Park Group's other remaining—and presumably more profitable—amusement parks in a shrinking portfolio.
This is shocking news to the Monticello community and a cautionary tale about out-of-state ownership of formerly Hoosier-owned businesses with deep roots and storied legacies. (Sound familiar? I'm certain the Indianapolis Motor Speedway will fare far better under its Penske Group stewardship.) Also, it's a lesson in impermanence and what ultimately matters.
Not much is known or to be found about Indiana Beach's owners and their intentions. Other than the abrupt notice to local officials and scant details in news stories about the closure, the public knows very little. I defy anyone to glean much from either the resort's website or that of its parent company.
"Permanently closed" is the banner headline on the resort's website; no further information for 2020 season ticketholders due refunds. News reports have focused retrospectively on the resort's colorful history, especially music acts that included a who's who of early rock 'n' roll, including Bill Haley and the Comets, Jerry Lee Lewis, The Who, Frank Zappa, Janis Joplin, and a young, pre-Led Zeppelin Jimmy Page playing bass (!) for The Yardbirds. Yes, Indiana Beach was "lit" in its day, but those concerts were long ago, not even vague memories in my family's 50-plus-year history with the park.
Apex Park Group's website, www.apexparksgroup.com, is a Spartan affair, not what one expects from a group promoting family fun leisure destinations. It's almost as if its owners don't want to be known. Formed in 2014—just a year before acquiring Indiana Beach—the company boasts of financial ties to deep pockets in the private equity world: The Carlyle Group in New York and Edgewater Funds of Chicago. Very deep pockets, indeed, which makes one question why Apex claims to lack the resources to make capital investments in what it says is a profitable enterprise.
Lacking as well is any information on the disposition of the land once the rides stop running and the elephant ears (and some delicious tacos) stop cooking on the boardwalk. Indiana Beach occupies some of the most valuable lakefront property in the area—near the dam and deeper, wider parts of Lake Shafer.
Redevelopment is key, but will Apex sit and hold like the value-extruding, balance-sheet enterprise it seems to be? If so, our lake community will be affected adversely.
Local officials should be skeptical of Apex and the ease with which it discarded Indiana Beach and Monticello. Its owners run a business, opaquely, perhaps poorly, and they're in it for the money. Their interests are not within the Twin Lakes community. Nostalgia is not enough to pay the bills or plan for a future they will not be a part of.•
__________
Carter is a lobbyist and CEO of Content by Carter as well as a former CEO of TechPoint.Send comments to ibjedit@ibj.com.

Click here for more Forefront columns.
Please enable JavaScript to view this content.