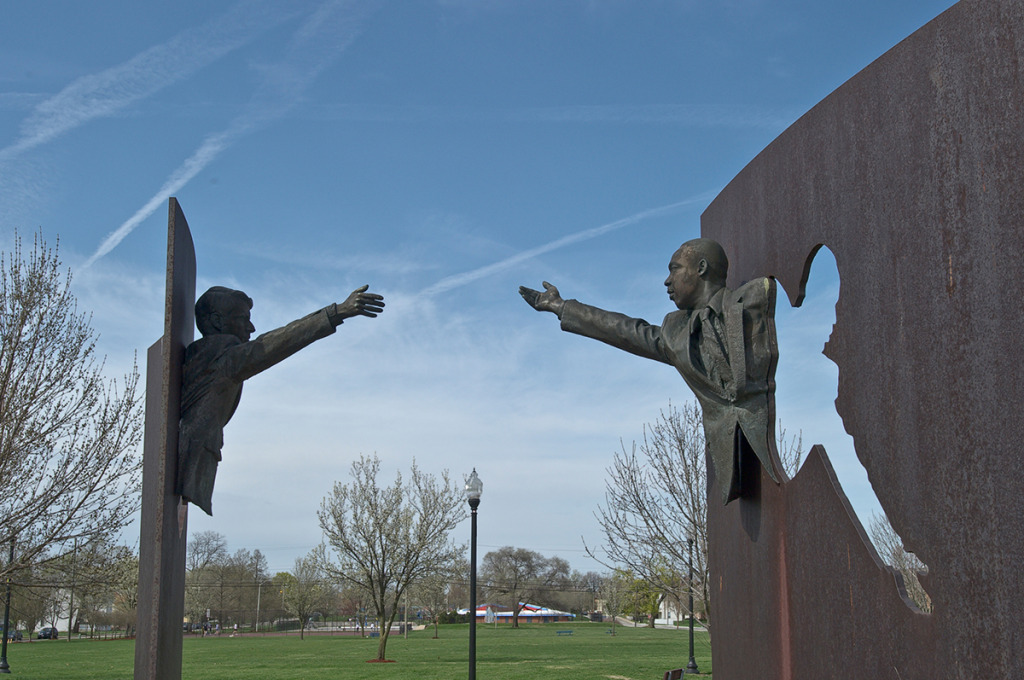 The city of Indianapolis and community leaders announced on Monday a $5 million capital campaign to fund upgrades at Dr. Martin Luther King Jr. Park at 1702 Broadway St. on the near-north side.
The city has pledged $1 million in infrastructure work, primarily focused on new sidewalks, lighting, and pedestrian walkways that encourage greater connectivity to the surrounding neighborhood. The park is one block wide and four blocks long, running from 17th Street to 21st Street between Park Avenue and Broadway Street.
The park is the site of one of the city's most important events of the 20th century. On April 4, 1968, Sen. Robert F. Kennedy announced the assassination of civil rights leader Martin Luther King Jr. during a speech at the park. He was widely credited for helping ease the anger and grief that sparked riots in many other cities.
Kennedy himself was assassinated on June 5 of the same year. In 1995, the sculptural  "Landmark for Peace" memorial was dedicated on the park's grounds.
"The Kennedy King Memorial Initiative and the park that surrounds it both play a unique role in telling the story of our city and our nation," said Indianapolis Mayor Joe Hogsett. "The city is honored to contribute to the park's growth through this capital campaign."
The memorial initiative is a not-for-profit organization that works to "raise awareness, provoke thought and inspire action to eliminate division and injustice."
The park also acts as a defacto playground of sorts for Indianapolis Public Schools' Center for Inquiry School No. 27, located immediately west of the park at 545 E. 19th St.
Please enable JavaScript to view this content.