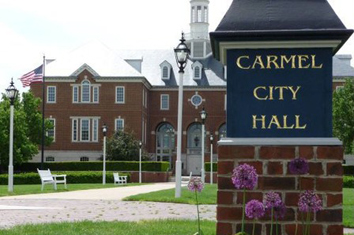 The Carmel City Council is considering passing an ordinance that would regulate when residents can set up lawn chairs for the annual Carmel Fest Fourth of July parade.
The ordinance aims to control a longtime city tradition that has grown out of hand, city councilors said.
Monday night, the city council introduced the ordinance, which allows chairs to be placed in the right of way along the parade route starting at 6 a.m. the day before the parade. However, the proposal would ban tents, tarps, stakes, tape, blankets and other personal property from being placed in rights-of-way along the parade route.
The ordinance also allows the city to impound any personal property that's placed within the right of way in violation of the ordinance. The impounded property will be stored at the Carmel Street Department until an owner picks it up.
The regulations, however, don't apply to CarmelFest committee, which will be allowed to setup the parade announcer's booth and television scaffolding early.
City councilors began mulling an ordinance earlier this summer, after residents began reserving their spots for the parade more than 1-1/2 weeks ahead of the annual Fourth of July parade.
Across Carmel community Facebook pages, residents complained the tradition—which over the past few years has begun earlier and earlier—is tacky. Others, however, say its uniquely Carmel.
Council President Jeff Worrell said the proposed ordinance—which could be changed as it moves through committee meetings—keeps the tradition alive while putting some guard rails in place.
Worrell said over the years, he's received complaints from business owners who say the chairs being set out days in advance get in the way of their ability to mow. Others have had irrigation systems damaged.
"This ordinance is my first stab at offering you something to work with," Worrell said. It's an "effort to keep this quaint tradition alive. It was always stated people could put their chairs out in Carmel, and they wouldn't be bothered," he said.
Councilor Laura Campbell asked why Worrell didn't consider a regulation that spots can be reserved on a first-come, first-served basis the day of the parade.
Worrell said that standard would go too far toward ending the tradition.
The ordinance will go to the land use committee, where it will be discussed further and the public will have a chance to weigh in.
Please enable JavaScript to view this content.