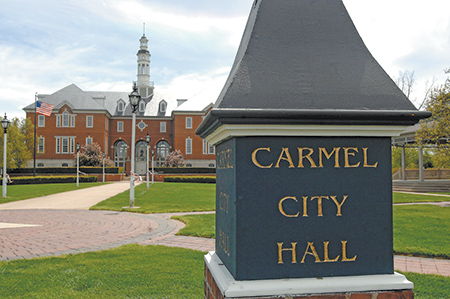 Members of the Carmel City Council have been hesitant to approve a slew of bonds totaling $125 million that were first proposed by Mayor Jim Brainard's administration in December.
The council this week voted to issue a $60 million bond for road projects, including $19 million worth of infrastructure improvement projects in the Home Place neighborhood, but has yet to vote on a proposed $65 million in bonds that would pay for a new police headquarters and planned redevelopment projects across the city.
The council is also considering adding $8 million in bonds to pay for a new parking garage near the municipal complex.
Some councilors have concerns about what the bonds would be spent on—including public art—while others worry the city's plans to acquire more properties would harm small businesses.
Jeff Worrell, an at-large member of the council and the finance committee's chair, said he's already held six two-hour-long meetings about the bonds and at least two more are planned. He's willing to hold as many as it takes for the council to feel comfortable with their final vote on the funding.
The next finance committee meeting is scheduled for 5 p.m. Monday with a follow-up meeting slated for March 18 at the same time.
"My goal has been to be as transparent and methodical as possible. We're not in any rush," Worrell said. "There's no deadline, no pressure for when we'll actually send these back to the council with a full vote."
Brainard did not immediately respond to IBJ's request for comment.
Road projects in Home Place and beyond
The council voted unanimously Monday to issue the $60 million roads bond (backed by property taxes), which allocates $19 million for projects in the Home Place neighborhood. Current estimates for those projects show the amount won't be enough to cover all listed improvements, but there's the potential for those projects to come in under budget or for federal funds to cover the gap.
Before approving the bond, the council voted to restrict the funds so that no money would be spent on public art.
In order of priority, the projects and their estimated construction dates are:
$10.7 million for reconstruction and bridge construction on Smoky Row Road, between Old Meridian Street and Range Line Road slated for February 2022-December 2022.
$4.5 million for reconstruction of 3rd Avenue, from City Center Drive to Main Street, which is currently scheduled to begin in May of next year.
$4.3 million for a two-lane roundabout at 96th Street and College Avenue in July 2023.
$3 million for a two-lane roundabout at 106th Street and College Avenue in July 2022.
$3.2 million for a two-lane roundabout at 106th Street and Westfield Boulevard beginning in July 2023.
$7.5 million for improvements to College Avenue, from 96th to 106th streets beginning next year.
$3 million for multi-use paths in Home Place slated to begin next year.
$10.8 million for reconstruction of 3rd Avenue, from Carmel Drive to City Center Drive scheduled to begin in January of 2023.
$2.2 million for a roundabout at AAA Way and 116th Street with construction starting in January 2023.
$3.5 million for a roundabout at AAA Way and Carmel Drive scheduled for construction to begin in January 2023.
Police headquarters and redevelopment projects
Although the council's finance committee voted last month to issue a $38 million bond for the police headquarters expansion, paving the way for it to be voted on by the full council, Worell said councilors are now reconsidering Brainard's original request.
Originally, the administration had proposed issuing a $32 million bond and an $8 million bond to cover the headquarters expansion and the IT department's move to Clay Township's John W. Hensel Government Center at 10701 N. College Ave.
Worrell said issuing a single bond instead of two would save money, and the committee last month wasn't willing to approve $40 million for the project, believing that figure was too high.
Since then, the committee has received a parking study that shows the municipal complex—which includes city hall, the police station and a fire station—would need 137 more parking spots to accommodate the expanded police headquarters.
Now, Worrell said, the committee will reconsider issuing the $8 million bond, only that funding would be redirected from the police station project to a parking garage.
The committee will consider issuing a bond to build either a two-story garage with 265 spaces that's estimated to cost $7.2 million, or a three-story garage with 295 spaces estimated to cost $8.5 million.
The committee is also still working through $25 million in bonds for various redevelopment projects.
The administration has requested $13.4 million the city would use to acquire 26 unidentified parcels (the city has not said what parcels it would like to buy, saying revealing that information could hurt the negotiation process); $4 million for roundabout improvements, including new art on 96th Street; $2.5 million for the Carmel Clay Historical Society to expand its museum and other township projects; $1.5 million for a light projection display on the water tower near Midtown; $920,000 for improvements to the Tarkington and Sophia Square garages; $650,000 for electronic information kiosks; and $225,000 for interior signage for the Center for the Performing Arts.
Adam Aasen, the council's southeast district representative and a member of the finance committee, said he's been hesitant to approve the bonds because he's worried about the small businesses that might have to relocate if the city purchases their property.
"I wanted to make sure, if they had to relocate, there would be a place with similar rents," Aasen said. "Commercial real estate in Carmel is getting pretty pricey."
Before the committee casts its vote, he plans to recommend the council be allowed to review each of the land purchases before the city makes them.
"The key on everything is to make sure the city council is a partner when it comes to the vision of the city," he said.
As for those other projects related to landscaping and public art, Worrell said he anticipates a robust philosophical discussion that pits the value those projects bring to the city against the debt they'd incur.
"We're going to look at each of those projects and weigh them on their merits," Worrell said.
Aasen said he'd have a hard time approving the bonds in the current form, but he's confident the committee and council can find a way to make them work.
"I'm just sometimes a little weary of using public debt to fund art purchases. There are other ways to fund it," Aasen said. "I'm confident we can add provisions or cut any unneeded spending and get the bond to a place where I'd feel comfortable voting yes."
Please enable JavaScript to view this content.