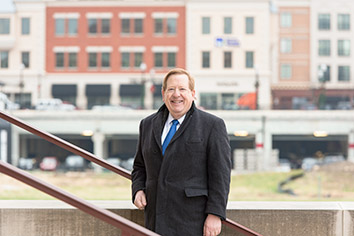 Carmel Mayor Jim Brainard tested positive for COVID-19 in early November and has since made a recovery after quarantining in his home.
Brainard said Wednesday that Aria Diagnostics, the city's contracted COVID-19 testing provider, administered his nasal swab COVID-19 test on Nov. 6 at its drive-up testing site at the Carmel United Methodist Church. The next day, Brainard received his positive results and started to self-quarantine in his home. After experiencing what he calls mild symptoms, he now says he's fully recovered.
"I thought it could be allergies, maybe a cold," Brainard said. "I was told your most dangerous days are days five through 10. You either get better, or you get really sick. Fortunately, I got better."
Brainard said he started feeling ill on Nov. 4. He experienced a headache, fatigue, chest congestion, a dry cough and a loss of his sense of smell. Brainard said he isolated himself for 20 days after receiving his results and continued working from home.
The city of Carmel entered into a contract with Aria in late March, and its first responders have been tested weekly since then. Brainard said he doesn't know where he might have picked up the virus, especially given that carriers can be most contagious before they even begin to show symptoms.
"I was extremely careful. I've been working from home and I've—for the most part—been avoiding large groups of people," Brainard said. "This is a very insidious virus that's extremely contagious, and people need to be careful until we get the community vaccinated here in the next few weeks."
Other than feeling slightly tired, Brainard said he's back to normal. He reiterated health professionals' orders to wear a mask, social distance and wash your hands.
Please enable JavaScript to view this content.