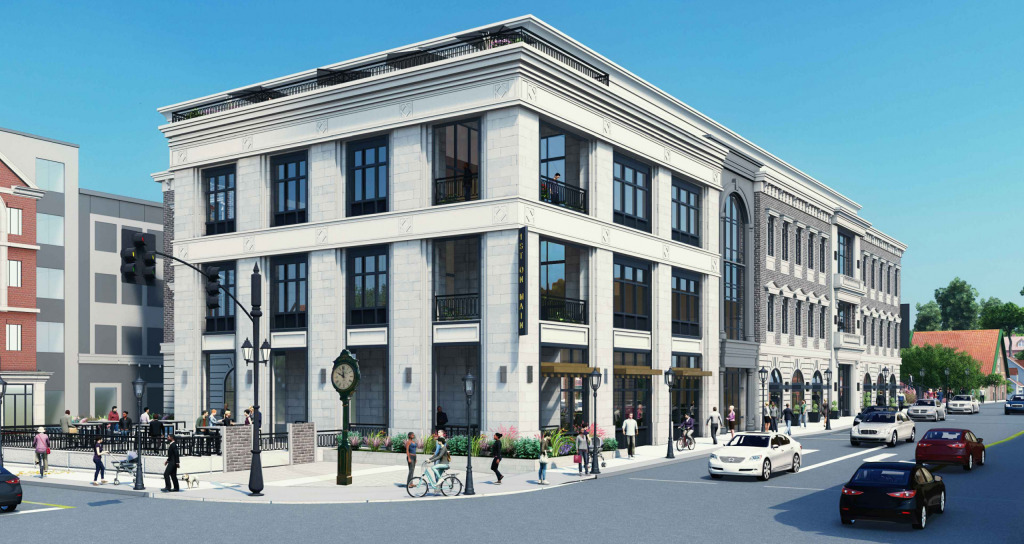 The City of Carmel this week released new details and architectural renderings of a residential, office and retail project under development at the northeast corner of Range Line Road and Main Street in the Arts & Design District.
The project by Carmel-based Lauth Group Inc. now has a higher price tag than previously announced—$47 million instead of $35 million—and a new name.
New plans call for the 1st On Main development—previously known as Lot One—to include a four-story, 73,000-square-foot office building with first-floor restaurant space and a private rooftop terrace; eight luxury condominiums ranging from 3,000 to 3,340 square feet; 35 upscale apartment units, a 310-space parking garage with public access; and a community plaza featuring the existing Rotary Clock.
Site work, which involves demolition of the former PNC Bank branch building at the 1.8-acre site, has begun. PNC Bank plans to maintain a presence at the site with a 24-hour ATM in the office building lobby.
John Vandenbark of CBRE, which represent Lauth's leasing efforts for the office building, said preleasing activity has been very strong, with several possible tenants expressing interest.
Carmel-based Studio M Architecture and Planning is designing the exterior facade and floorplans for the apartments and condos.
In June 2020, the Carmel City Council gave approval to $6.5 million in tax increment financing bonds to help fund the project's infrastructure, specifically the parking garage, which will provide hundreds of public parking spaces.
In spring 2019, the city solicited pitches for redeveloping the property and received proposals from eight respondents. However, the city decided against the submitted options and instead partnered with Lauth, which made one of the proposals, on a modified plan.
The updated plans now include an extra floor, twice as many condos, half as many apartments and 15 fewer parking spaces.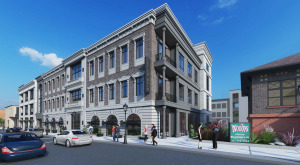 "The desire to live and work in Carmel's Arts & Design District is incredible," Lauth President Mike Jones said in written remarks. "This is where people want to be, and we are excited to be a part of a project that will be a difference maker in Carmel."
The project is expected to create nearly $400,000 of tax revenue annually on what's currently government-owned property.
"The Carmel Redevelopment Commission's partnership with Lauth to convert a parking lot and some older buildings on one of our main corners of the city into a beautiful, landmark project compete with headquarters jobs, plenty of public parking, and for-sale and for-lease residential units will have a transformational effect on the district," Carmel Mayor Jim Brainard said in a written statement.
The development was originally referred to as Lot One because part of the property incorporates the first four lots of the town of Bethlehem, which changed its name to Carmel in 1874 because there was another town in Indiana registered as Bethlehem.
Please enable JavaScript to view this content.