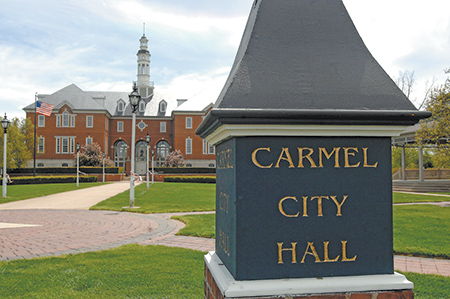 With little luck growing real grass, Carmel plans to install artificial turf next week at Midtown Plaza and along Elm Street just east of the Monon Greenway, the city announced Friday.
The city contracted the project to Clinton-based White Construction Inc., which is handling excavation, and Louisville-based ForeverLawn, which will install the turf beginning Monday.
The turf will cover about 2,835 square feet at Midtown Plaza and approximately 1,275 square feet along Elm Street.
The estimated project cost is $147,238, according to Dan McFeely, a spokesperson for the city of Carmel.
A news release from the city said attempts to grow natural grass at Midtown Plaza have been unsuccessful since it opened in May 2019.
"The new turf, once installed, will have a natural grass appearance, be cushioned for delicate joints and will greatly reduce labor and maintenance costs versus the expense of actual grass," the news release said.
Midtown Plaza is located along the Monon Greenway in the center of Midtown, south of the Sun King Spirits distillery and food hall. It was part of a $23 million city project to enhance the Monon Greenway through the heart of the city.
The green plaza, which includes benches, tables and swings, is an interactive play area for children and adults.
Correction: The original version of this story incorrectly said Midtown Plaza was a $23 million project. Midtown Plaza was part of a larger $23 million project to enhance the Monon Greenway. 
Please enable JavaScript to view this content.