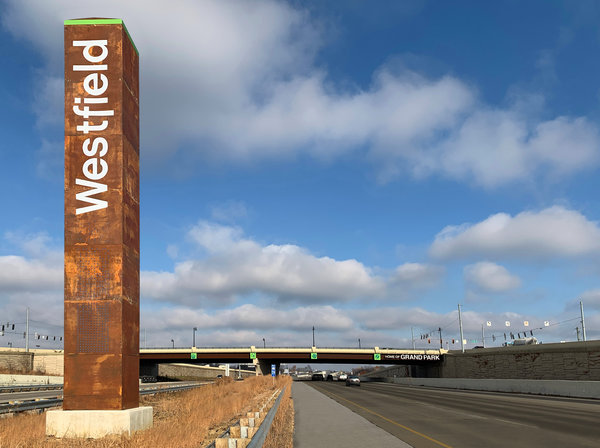 The city of Carmel has agreed to pay $64,000 to change a sign Westfield erected along U.S. 31 to welcome motorists.
Late last year, Westfield had a totem sign installed near 146th Street in Carmel that says "Westfield" on both the north and south sides of the sign. Residents and officials expressed confusion about why the sign appears to welcome drivers to Westfield as they travel south on 31 into Carmel.
Now, Carmel is ponying up the cash to modify the sign. The Board of Public Works last week voted in favor of paying Indianapolis Signworks Inc.—which installed the original sign for Westfield for about $300,000—$64,125 to create a new panel that says "Carmel" and install it.
It appears a lack of communication between city leaders led to the mixup.
Carmel Mayor Jim Brainard told IBJ his city wasn't aware the sign would say "Westfield" on both sides until it was installed. He said paying $64,125 to modify the sign is significantly cheaper than paying to erect another one.
Westfield spokeswoman Vicki Duncan Gardner told IBJ that Westfield officials sent Carmel planners designs for the sign that included elevations of all sides in spring 2018 for approval, as required by the Indiana Department of Transportation, which gave Westfield permission to install the sign on land owned by INDOT.
Westfield officials said they have been open sign changes as long as Carmel footed the bill.
Previously, the only true signage along 31 that promoted Westfield were "Home of Grand Park" signs installed on some of the overpasses.
Brainard said once contracts are signed, fabricating the panel and installing it will take about 60 days.
Please enable JavaScript to view this content.