Two Hamilton County cities are in the midst of projects that will significantly expand the services and reach of their public libraries.
The Carmel Clay Public Library plans to reopen its main branch late this year following a two-year, $40 million renovation and expansion, while the Westfield Washington Public Library will break ground this summer on a $17.7 million, 45,000-square-foot facility.
Construction is happening at a time libraries play an increasingly wide-ranging role in the communities they serve, according to directors at both libraries.
"I see the modern library as a place where people can come and gather and learn information and just not have to worry about whether they fit in, because we are inclusive of all age groups and socioeconomic backgrounds," said Sheryl Sollars, executive director of the Westfield Washington Public Library.
While print books represented 62% of circulation in Carmel and 65% in Westfield in 2021, both directors said libraries are more than places to find reading materials.
They serve as forums, meeting spaces, creative hubs and service providers, even as they continue to feel the pinch of Indiana's property tax caps, which reduce revenue to the libraries.
"I think the role of the modern public library is to be a community center," said Bob Swanay, director of the Carmel Clay Public Library. "And I think there are some traditional spaces that we used to have in society that we've lost that libraries kind of filled the gap in."
Swanay said plans for a major renovation and expansion of Carmel's library began in 2017 as the existing building approached its 20-year mark at 55 4th Ave. SE.
Carmel's population increased from about 46,000 when the library opened in 1999 to more than 88,000 in 2017, according to data from the U.S. Census Bureau.
Along with the need for increased services, the city had simply outgrown its library, Swanay said.
"Ideally, you want a library to be pretty well-matched to serve the community that [it's] in," he said. "Certain aspects of the building were no longer matching up to that."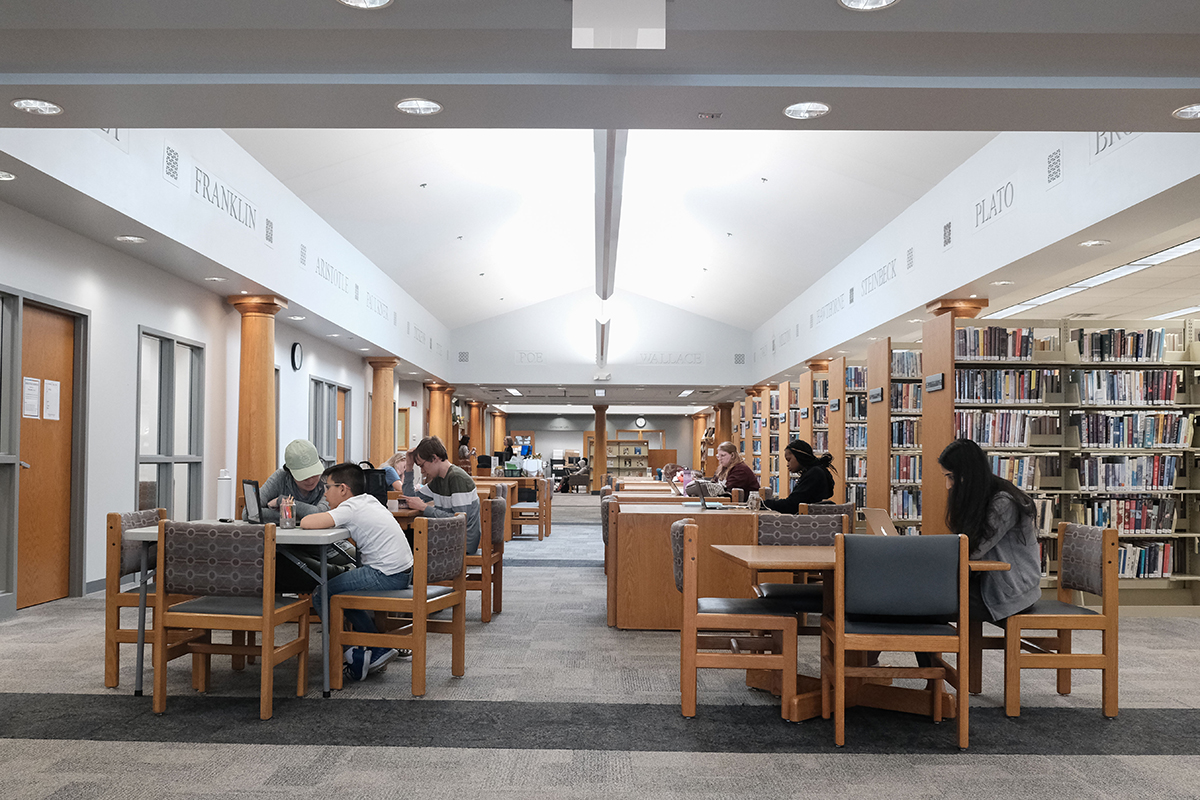 New amenities
During construction, the library is operating out of a temporary home at a former Marsh Supermarket at 2140 E. 116th St., where biographies, newspapers and magazines can be found in what was once the frozen foods aisle.
Indianapolis-based Ratio Architects designed the expansion that will add up to 30,000 square feet to the library's existing 117,000-square-foot area. Patrons will be able to park in a new parking garage adjacent to the building.
The newly designed library will introduce a digital media lab, recording rooms, video creation space, a 3D printer, an artist-in-residency program and soundproof rooms where musicians can practice.
"People are going to be creating some really cool stuff," Swanay said.
Students at nearby Carmel High School will find an expanded teen area that will include hangout space and study rooms.
Swanay noted that places where teenagers gathered when he was younger—such as bookstores, record shops and video stores—have all but disappeared. That creates more of a need for libraries to fill that space.
"We wanted to really take another swing at that and do something that was far more effective in addressing the space that teens would have," Swanay said. "Our concept is to, on a rotating basis, host different teen artists and give them some studio space where they can work and some gallery display space, all in that teen area. And then just more seating, more tables and hangout space."
More space for teens also was a priority when plans were drawn for the new Westfield Washington Public Library.
Sollars said the library will have larger and more interactive children's areas as well, including spaces focused on early learning and literacy.
Sizing to fit in Westfield
Westfield's library—designed by Indianapolis-based krM Architecture—will be built at the corner of Park Street and Westfield Boulevard in Grand Millennium Center. An opening date is expected in the second half of 2023.
The library will replace the current 32,101-square-foot building that sits on 2.6 acres at 333 W. Hoover St. between Westfield middle and high schools.
The current library has been expanded three times since it was constructed in 1983. However, growth in Westfield and Washington Township created a need for a new building.
"We have an overabundance of people wanting to come and use our facilities," Sollars said.
The new library will include more open space, an outdoor reading area, a large community room and a makerspace where people can record podcasts and video and use a 3D printer.
The library will have more computers, which Sollars said is needed given that not everybody has access to broadband or the internet at home.
"We want to be a place that people can come in and get that access that they need more and more every day," she said.
The library also will provide space for small-business entrepreneurs to meet with clients.
"We want people to be able to come in and create things," Sollars said. "It's just a vibrant place. Especially after COVID, people like to be around each other again and that's what the library provides. It's that kind of place."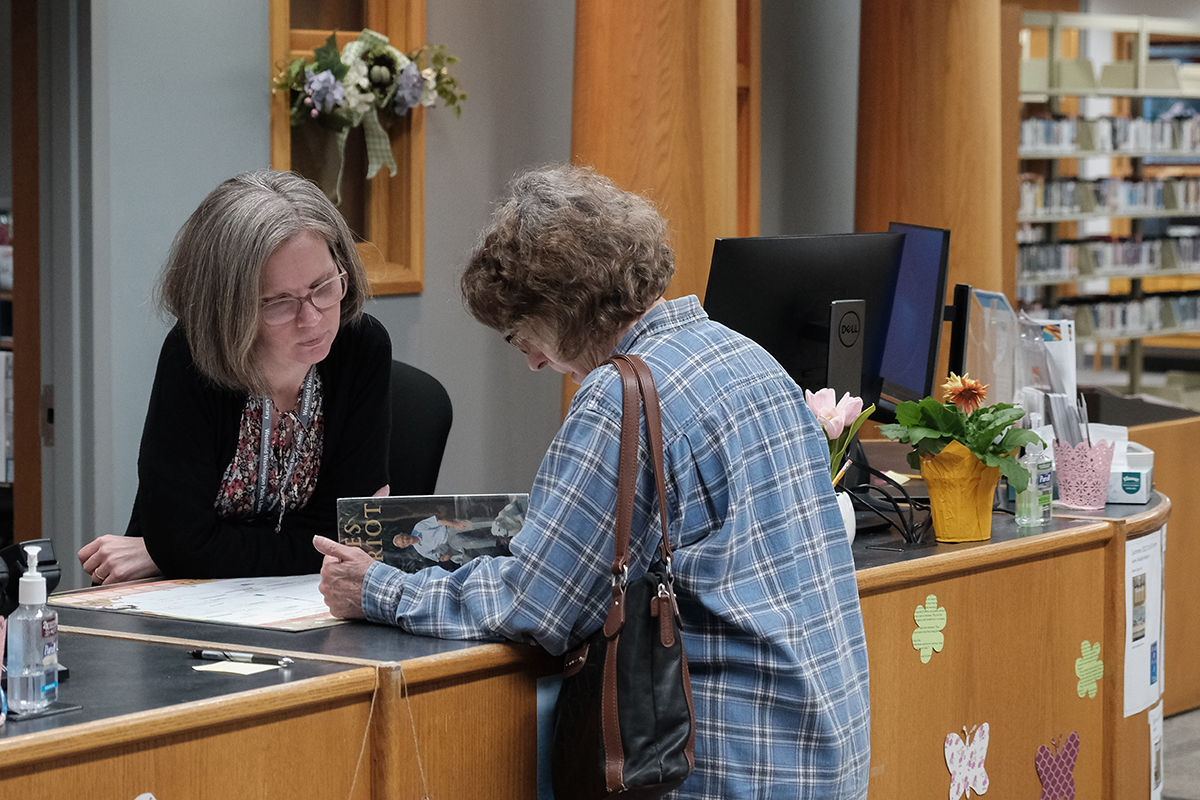 Library challenges
Libraries in Indiana have long struggled with funding, but especially since the Legislature approved property tax caps in 2008. Voters later made those caps—which generally limit homeowners' taxes to no more than 1% of assessed value, other residential property and farmland to no more than 2%, and commercial property to no more than 3%—part of the Indiana Constitution.
Sollars said the Westfield Washington Public Library will receive an estimated $909,056 in property tax revenue in 2022. That's 28% less than it would have received had the caps not been in place, she said.
"We always struggle with funding," Sollars said. "We're so good at using our resources, you know, and people think, 'Oh, well, they don't need any money.' But we do. We kind of sell ourselves short a little bit sometimes, but I think that's one of our big challenges."
Swanay said the Carmel Clay Public Library has been less affected than other libraries in Indiana due to the steady rise of property values in Hamilton County.
He projected the library will receive more than $4.1 million in property tax revenue this year. That revenue makes up about half of the Carmel Clay Public Library's operating revenue.
Other issues
Neither Swanay nor Sollars said their libraries have found themselves in the middle of the national debate over censorship and who should determine which books are appropriate for children.
"If someone feels like it's not appropriate to be in that collection, we may move it into the adult collection or from the children's, but we haven't experienced a whole lot of that," Sollars said.
In Indiana, conservatives and right-wing groups attempted to pass Senate Bill 17 during the 2022 legislative session. The bill would have removed an exemption for public libraries and K-12 schools from a law that prohibits distributing harmful material to children.
Libraries no longer would have had a legal defense that material was educational.
Swanay said public libraries have more autonomy than school libraries, and he emphasized the Carmel Clay Public Library does not serve in place of the parent.
"I think it's pretty obvious that people are fighting about content in books, and libraries are definitely on the First Amendment, free speech, freedom-to-read side of that," he said. "It's the belief of libraries that censorship is bad."•
Please enable JavaScript to view this content.