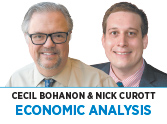 Forty years ago, in the first episode of his "Free to Choose" television series, Milton Friedman described Hong Kong as a "laboratory experiment in a free market economy."
Then a British colony, firms in Hong Kong received neither import protection, government subsidies nor direction from government planners, unlike most other countries in Asia. Moreover, labor markets were neither unionized nor subject to much government regulation. Yet the Hong Kong factories Friedman showcased, that sewed clothing and made cheap plastic toys, were quite profitable and offered workers some of the highest wages in Asia.
Much has changed in the last 40 years. The British transferred Hong Kong to the People's Republic of China in 1997. Hong Kong no longer manufactures much in the way of garments and toys. In 1981, its manufacturing wages were 30-fold higher than in neighboring Guangzhou (Canton) province. It was just a matter of time before most of Hong Kong's industry got outsourced to a mainland China opening up to the world.
However, far from being devastated, Hong Kong residents have thrived. Since 1980, real per capita income has risen threefold and life expectancy at birth has advanced by 10 years, to nearly 85. Hong Kong became the financial center of Asia—rivaled only by London and New York on a global scale.
Having inherited from the British a rule of law, fair courts and an independent central bank, Hong Kong allows the free movement of financial capital in and out of the city at an exchange rate pegged to the U.S. dollar. This is something the Chinese government is unable and unwilling to do on the mainland. Hong Kong, therefore, serves as mainland China's financial conduit to the rest of the world.
But all is not well. The 1997 transfer was accompanied by a 50-year agreement designed to ensure Hong Kong could maintain an economic and political system separate from the rest of China. While the economic portion of the deal is for the most part in place, Beijing has become increasingly perturbed by Hong Kong residents' desire for political autonomy. On July 1, Beijing unilaterally imposed new rules that allow it to quash dissent in Hong Kong as the government does elsewhere in China.
So, Hong Kong yet again becomes an experiment. Can a "free" city subject to an authoritarian overlord maintain its economic liberty while losing its political liberty? We suspect Milton Friedman would concur: This experiment is sad and tragic.•
__________
Bohanon and Curott are professors of economics at Ball State University. Send comments to ibjedit@ibj.com.
Please enable JavaScript to view this content.