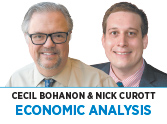 In recent years, policymakers have pushed the economy ever closer to the brink of fiscal disaster.
President Trump's campaign promise to eliminate the national debt in eight years has turned out to be the same "politics as usual" he purported to denounce. Even back in 2019, the national deficit reached nearly $1 trillion, a profligate sum and the highest ever in a peacetime expansion. Now, the Congressional Budget Office warns the deficit for this fiscal year will be $3.3 trillion, more than triple last year and the greatest ever in dollar terms.
The national debt is growing out of control. Next year, federal debt held by the public will be larger than the size of the economy for the first time since World War II. By 2023, the national debt is projected to be 107% of gross domestic product, which will be the highest in the nation's history.
Our nation's precarious fiscal position is the consequence of decades of political administrations unwilling to tackle the serious fiscal challenge of addressing the unfunded liability gaps in Social Security, Medicare and Medicaid.
It is also due to the legacy of Keynesian economic doctrine, which holds that the government can smooth out business cycles by deficit spending during recessions and repaying debt in expansions. Unfortunately, the Keynesian logic is flawed because it assumes politicians are farsighted. In the real world, politicians deficit-spend like mad in good times, then use recessions as an excuse to spend even more.
Politicians are not angels; they respond rationally to the politically winning incentive to shower the electorate with all manner of freebies and income transfers, while deferring the burden of repayment onto future generations. As far back as 1776, Adam Smith warned about politicians resorting to the "juggling tricks" of deficit spending to cover the disgrace of national bankruptcy.
Persistent deficits have not made it possible for our nation to get something for nothing. They are crowding out private investment, creating a climate of policy uncertainty, and will lead to higher taxes. Within a generation, continued deficits will lead to sharp reductions in promised Social Security and Medicare benefits, drastically higher taxes, inflation, and possibly national bankruptcy.
The only way to solve the national-debt problem is by tying our trick-juggling politicians' hands with constitutional rules that constrain their shortsighted temptation to increase spending and lower taxes at the same time. It's time for a balanced budget amendment.•
__________
Bohanon and Curott are professors of economics at Ball State University. Send comments to ibjedit@ibj.com.
Please enable JavaScript to view this content.