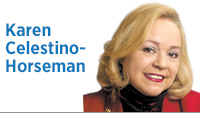 NASA and the National Oceanic and Atmosphere Administration recently reported that the last five years saw the highest temperatures since records started being kept. Nineteen of the hottest 20 years occurred in the last two decades.
Climate change is not a new phenomenon. In the past, our climate has changed due to varying causes such as volcanic dust, the sun or meteors. It should come as no surprise that increased carbon dioxide production impacts weather. We are witnessing a climate change now, so it is heartening to see the City-County Council, as proposed by Councilor John Barth, wants to study how we locally might be impacted by climate change.
It is predicted by the year 2100, if emission trends continue at the same level, Indianapolis will see an additional 65 days with temperatures above 95 degrees. Unfortunately, as in the past, significant climate change has resulted in significant changes to the lives of all persons and creatures living on our planet.
Extremely dry conditions can increase the propensity and scope of fires (think Australia). Heavy rains can lead to flooding. High temperatures coupled with too much or too little rain also impact the production of food and the availability of clean, safe drinking water.
If summer temperatures rise, then heat stress will impact more people and exacerbate medical conditions such as asthma and cardiovascular disease. If temperatures increase, then we will need more power for air conditioning. Are our utilities able to provide that power? Are we prepared to provide for the elderly who do not have air conditioning but who are more susceptible to the higher temperatures?
Local transportation can be impacted by climate change. If the days become too hot for too long, asphalt can buckle. If there is too much rain, roadways can flood. Are we using infrastructure materials that can handle climate change?
In the past, weather changes have had social impacts. Think of General George Washington and the Revolutionary Army fighting to survive the winter of 1777-1778 during the height of the climate change known as the Little Ice Age. Residents of New England seeking to escape the low temperatures of the Little Ice Age migrated to the Midwest. Can we expect to see our population numbers grow again in the Midwest due to worsening weather in other parts of the country?
Climate change is a global problem. How might this impact us? During the Little Ice Age, there were outbreaks of the bubonic plague believed to have been made worse by the fact that people were starving due to the negative impact of the climate on the production of food. While we may not starve in Indiana, we have learned that with global travel, outbreaks of diseases in third world countries are not always contained within those countries.
It is no wonder that so many young people are concerned about climate change. By the year 2100, my generation will be long gone. Our young people and future generations should not have to pay the price for my generation's insistence on keeping its head in the sand. If by chance we get lucky and there is no significant climate change in the years ahead, then they will have dodged the proverbial bullet. But if the climate does change significantly, it would be good to know that our children and our children's children will have the benefit of that same advance planning.•
__________
Celestino-Horseman is an attorney and represents the Indiana Latino Democratic Caucus on the Democratic State Central Committee. Send comments to ibjedit@ibj.com.

Click here for more Forefront columns.
Please enable JavaScript to view this content.