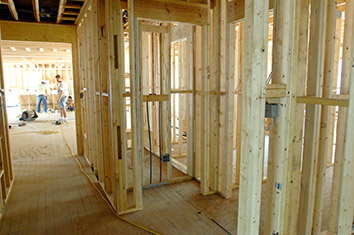 Fresh off their busiest year since 2006, central Indiana homebuilders continued to see heavy interest from buyers in January, the Builders Association of Greater Indianapolis announced Wednesday.
Builders in the nine-county Indianapolis area filed 772 single-family building permits during the month, up a whopping 45% from January 2020. The last time filings were so high in January was in 2006, when 825 permits were filed during the month.
Filings have risen on a year-over-year basis in 14 of the past 15 months.
"The demand for new homes has accelerated into 2021," BAGI chief executive Steve Lains said in written remarks. "In fact, home demand has surpassed production capacity. While we remain encouraged by the enthusiasm in the new home market, meeting this increasing demand will require a resetting of expectations for both the builders and homebuyers."
Lains said high demand is creating challenges.
"Costs for supplies and labor are continuing to go up, inventory remains limited as builders try to develop lots and catch up with the backlog of homes to be built," he said. "We empathize with today's homebuyers and know it can be frustrating to navigate this market in light of those challenges. We ask that prospective homebuyers stay patient."
County numbers
– Marion County saw 62 permit filings last month, a decline of 28% from January 2019.
– New-home hotbed Hamilton County saw 341 filings last month, a year-over-year increase of 86%.
– Hendricks County's numbers were up 64% in January, to 126.
– Hancock County saw January permits jump 30%, to 61.
– Johnson County saw a 36% increase in filings last month, to 90.
– Filings were flat in Boone County last month, at 38.
– Madison County filings increased 264% in January, to 40.
– Morgan County filings dipped from 19 to 10 in January.
– Filings dipped from seven to four in Shelby County.
Please enable JavaScript to view this content.