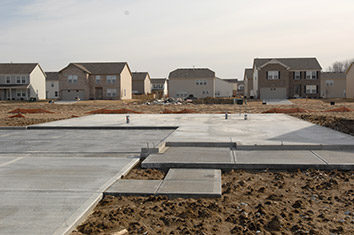 A big year for central Indiana homebuilders just keeps getting bigger.
Despite the pandemic, builders in the nine-county Indianapolis area filed 904 single-family building permits in October—the single biggest month for permits since August 2006 and the busiest October since 2005.
Permits were up an eye-popping 47% last month compared with October 2019, marking the 14th time in the last 16 months that filings have risen on a year-over-year basis.
Area builders have made 7,181 permit filings through the first 10 months of 2020. That's already more than they've filed in any full year since 2007, when 7,331 permits were filed. Filings are up 18% over last year's pace.
October's increase followed a 45% year-over-year jump in September, a 9% spike in August, a 12% rise in July, a 20% surge in June, a 12% decline in May, a 5% increase in April, a 20% expansion in March, a 34% escalation in February and an 18% hike in January.
BAGI chief executive Steve Lains said builders are on a roll.
"It has become evident that we are experiencing unprecedented demand for new housing in our market," he said in written remarks. "In the midst of an uncertain year, our indicators continue to trend positively and are showing no signs of softening for the foreseeable future. However, the diminishing availability of lot inventory and completed homes for sale, along with process disruptions from COVID-19, could impact the industry's ability to meet the ongoing demand into 2021."
County numbers
Marion County was the only area county to see October filings fall on a year-over-year basis, from 124 to 115, a decline of 7%.
Hamilton County saw 287 filings last month, an increase of 46%.
Hendricks County's numbers were up 49%, from 94 to 140.
Hancock County saw permits jump 120%, to 121.
Johnson County saw a 14% increase last month, to 74.
Filings rose 16% in Boone County last month, to 52.
Madison County filings increased 264%, to 51.
Morgan County filings jumped 194%, to 50.
Filings rose from five to 14 in Shelby County.
Please enable JavaScript to view this content.