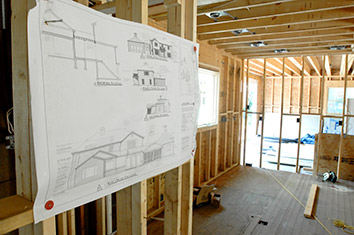 Demand for new homes continued at a torrid pace in central Indiana in March, the Builders Association of Greater Indianapolis said Monday.
Builders in the nine-county Indianapolis area filed a whopping 1,127 single-family building permits during the month, up 66% from March 2020, when 680 permits were filed.
The last time filings were so high in March was in 2005, when 1,300 permits were filed.
So far this year, 2,717 permits have been filed in the area, up 48% over the first three months of 2020.
Filings in central Indiana have risen on a year-over-year basis in 15 of the past 16 months.
"Market demand has not shown signs of wavering," BAGI CEO Steve Lains said in written remarks. "Consumers continue to sell their current homes for more money and with less time on the market. Record low interest rates continue to be a driver for people to buy now, despite the cost increases with new construction."
Lains said big jumps in construction-material costs and "diminishing lot availability will make it difficult for permit increases like this to continue."
County numbers
– Marion County saw 175 permit filings last month, an increase of 82% from March 2020.
– New-home hotbed Hamilton County saw 387 filings last month, a year-over-year increase of 104%.
– Hendricks County's numbers were up 7% in March, to 157.
– Hancock County saw March permits jump 78%, to 91.
– Johnson County saw a 54% increase in filings last month, to 106.
– Filings were up 32% in Boone County last month, to 94.
– Madison County filings increased 170% in March, to 81.
– Morgan County filings climbed from 17 to 19.
– Filings rose from nine to 17 in Shelby County.
Please enable JavaScript to view this content.