Did Gov. Eric Holcomb make the right decision to accept refugees?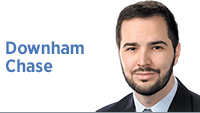 Gov. Eric Holcomb recently announced that Indiana would continue to resettle refugees. That's a good decision for the people of our state, who are likely to be among the primary beneficiaries. It's also one that more governors should emulate.
Refugees—who undergo medical and security vetting, and are approved by the Department of Homeland Security—come to our country to escape political oppression, religious and ethnic persecution, and violent terrorism. They are often powerfully motivated to succeed and contribute to their newly adopted communities. They are younger than the U.S. population as a whole, and they work hard to adapt and build lives here. It's no wonder that the International Rescue Committee—one of the leading private resettlement organizations—reports that 85% of new arrivals under their management are employed within six months of coming to the U.S.
The economic benefits of refugees are clear. The U.S. Office of Refugee Resettlement chronicles success stories, including auto dealers, tax preparers, restaurant owners, repair shop owners and even a child care provider right here in Indiana. According to a recent study, refugees resettled in Indiana are projected to grow the state's economy by more than $122 million over the next decade. And a leaked report by the Trump administration also found that refugees contributed $63 billion more in taxes than they received in benefits at all levels of government from 2005-2014.
Additionally, those who are considered for admission to the U.S. now undergo the highest level of screening ever put in place. The DHS has established new requirements and procedures to make sure that we can verify exactly who qualifies on these humanitarian grounds. These procedures involve the National Counterterrorism Center, Department of Homeland Security, FBI, Department of Defense and other federal, state, and local agencies.
Sadly, the desperation of refugees to find safe new homes has never been greater. There are estimated to be nearly 20 million refugees in the world. They include people from all over the globe—folks trying merely to survive in the face of terror organizations like ISIS and Boko Haram, as well as genocide and other acts of government oppression. Only a tiny percentage qualify for resettlement at all, and still fewer are approved to come to the U.S. It's important to maintain our longstanding tradition of offering hope and refuge for those in need.
In recent years, the U.S. has dramatically reduced the cap on refugee admissions—from more than 100,000 annually a few years ago to a projected 18,000 this year. The White House has also allowed states to opt out of refugee resettlement. Nevertheless, 41 of the 50 states have already opted in—and more are likely to. For the states and governors who have yet to make a decision, we can only hope they see what Indiana does—that providing asylum to the oppressed is not only part of America's fabric, it's good for us, as well.
By allowing refugees to resettle in our states, we are giving them a lifeline to survival. And we are giving our communities a new source of vitality and even economic growth. That's clearly the right decision—and one that Hoosiers can thank Gov. Holcomb for making.•
__________
Downham is a senior vice president of grassroots at Americans for Prosperity and resides in Indianapolis.Send comments to ibjedit@ibj.com.

Click here for more Forefront columns.
Please enable JavaScript to view this content.