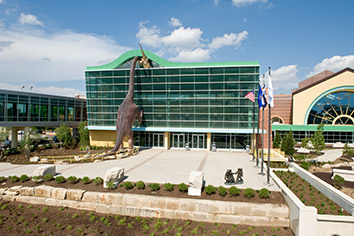 The Children's Museum of Indianapolis announced Tuesday that it plans to "employ a more robust review process" with its vendors to avoid another embarrassing public relations gaffe like it experienced earlier this month when a "Juneteenth Watermelon Salad" was included on its food-court menu.
The menu item—which was criticized as being racially insensitive and drew national negative attention—had been put out by a contracted food service provider and was not reviewed by museum staff, officials said.
The museum has apologized profusely over the incident, but said more needed to be done to make sure something like it didn't happen again.
"As a museum, we are very intentional about the content we develop for our exhibits and experiences and the review process they undergo," the museum said in a statement. "Exhibit and experience content is carefully created through the view of the individuals featured and vetted by a broad range of external subject matter experts and those who have a special interest in the exhibit or event. This situation has shown us that we need to expand this process beyond our exhibits and experiences and that we must be inclusive in this work."
The museum said it learned "a really hard lesson that oversight must play an important role in every museum relationship."
The institution, which is the largest children's museum in the world, said it would "work tirelessly" to regain trust and was "fully dedicated" to making things right.
"Vendors are an integral part of our organization and an extension of the museum," the museum said. "As a result of this situation, we have learned that we need to employ a more robust review process with our vendors. Our plan is to evaluate our processes and develop a strategy to prevent this from happening again. Once we have this revised process in place it will be shared on The Children's Museum website and expectations will be communicated to current and potential vendors."
Please enable JavaScript to view this content.