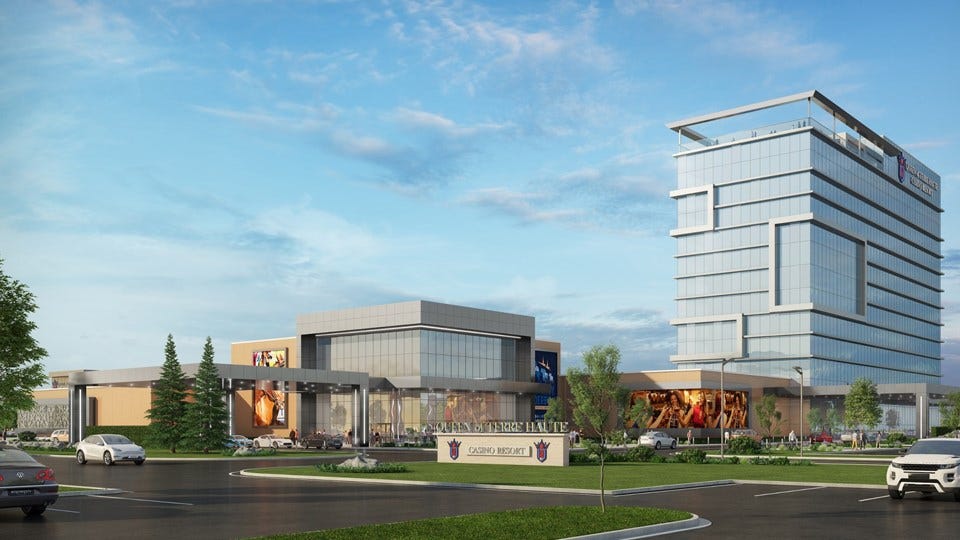 The Indiana Gaming Commission has selected Louisville-based Churchill Downs Inc. as the operator for the new casino in Terre Haute. However, the company will not receive the Vigo County gaming license just yet.
The commission said Wednesday an appeal of its decision to not renew the license for Terre Haute-based Lucy Luck Gaming must still be resolved.
In the meantime, Churchill Downs will receive a "certificate of suitability," which will allow the company to begin the process of establishing a casino.
Churchill Downs proposed a $240 million project known as the Queen of Terre Haute, to be built on nearly 21 acres of land on Honey Creek Drive west of the Haute City Shopping Mall, according to documents filed with the commission.
The nearly 400,000-square-foot casino building will include 56,000 square feet of gaming space featuring 1,000 slots and 50 table games. The project also includes a 125-room hotel. Churchill Downs said the project would create more than 500 full-time and part-time jobs.
When it was first introduced in September, Churchill Downs said the project would generate $190 million in annual economic impact for the region, according to estimates from Purdue University economists.
According to WTHI-TV, Churchill Downs will have 180 days to obtain a local development agreement for the project.
A total of four proposals were presented to land the gaming license. Each developer was given time Wednesday afternoon to present their projects to the commission and answer questions.
Hard Rock International and Premier Gaming Group were eliminated after the first round of voting by commissioners. Full House Resorts Inc., which operates Rising Star Casino in Ohio County, was the runner-up.
The Vigo County gaming license was originally awarded to Lucy Luck Gaming, which was developing a $175 million casino. However, the commission denied a renewal of the license in June, which the developer later appealed.
Earlier this week, the commission rejected a settlement offer from Lucy Luck that, among other conditions, would have seen Hard Rock International take over the development and operation of the proposed casino.
A timeline for a decision on Lucy Luck's appeal is not yet known. However, the commission said Churchill Downs can request an extension of the Certificate of Suitability beyond the 180-day limit.
Please enable JavaScript to view this content.