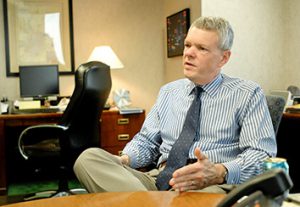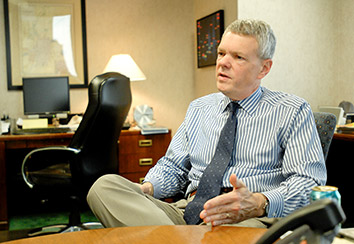 David Johnson, longtime president and CEO of the Central Indiana Corporate Partnership, a group focused on expanding Indiana's economy by concentrating on specific industry sectors, plans to retire Dec. 31 after leading the group for 10 years.
The organization announced the retirement on Monday and said it has launched a search for a new CEO.
The role of president will be taken by Latoya Botteron, the group's chief financial officer and chief operating officer, who will continue as CFO. In her new role, she will oversee the implementation of the organization's strategy and will manage the day-to-day activities.
Johnson, 69, has been head of CICP since 2012 and, under his leadership, the organization has grown from 30 to 113 people and spearheaded several new strategic projects.
"I have been privileged to lead this organization over an important decade in the growth of our region and state," Johnson said in a written statement. "I will miss day-to-day engagement with executive leaders and colleagues but look forward to continuing to make some sort of productive contribution to the significant work of advancing regional prosperity."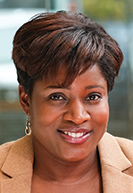 CICP oversees six initiatives that focus on key sectors of Indiana's economy and workforce. They are BioCrossroads (life sciences), AgriNovus Indiana (agriculture), Ascend (workforce development), Conexus Indiana (manufacturing and logistics), Energy Systems Network (energy technology) and TechPoint (technology).
The not-for-profit partnership was formed in 1999 to bring together the chief executives of the region's prominent corporations, foundations and university to focus on Indiana's economic growth. Today, the board consists of more than 60 leaders of some of the state's largest companies and organizations.
Johnson's relationship with CICP began in 2002 when he served as one of the community volunteers launching BioCrossroads, the group's first initiative.
He organized and helped to capitalize the Indiana Future Fund I, a $73 million venture capital "fund of funds" focused on addressing Indiana's shortages of venture capital.
In 2005, Johnson joined BioCrossroads as president and CEO. In that role he developed additional capital to meet the needs for early-stage life-science business funding through a $6 million Indiana Seed Fund 1. Additional funds followed: Indiana Seed  Fund II in 2012 and Fund III in 2018, totaling $17.25 million.
During his tenure, Johnson raised nearly $400 million in corporate, philanthropic, governmental and private equity funding for life sciences.
Johnson also helped spearhead the 16 Tech Innovation District, a work-live-play area near the IUPUI campus that has raised $130 million in funding.
Johnson led both CICP and BioCrossroads from 2012 to 2018. He stepped down from BioCrossroads to focus on the parent organization.
Tom Linebarger, president and CEO of Cummins Inc. and chair of the CICP board, credited Johnson for his role in boosting the state's economy.
"David has unique insights into economic development and the needs of the community," Linebarger said. "His dedication to Indiana and getting things done has become the culture at CICP as the organization has a stellar reputation to take on important projects and make an impact on the region and the state."
CICP has engaged Jorgenson Consulting in the search for a new CEO.
Please enable JavaScript to view this content.