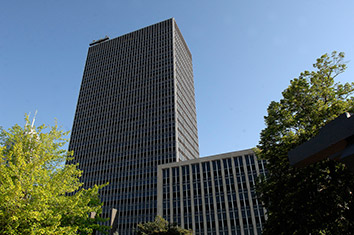 The Indianapolis City-County Council voted 21-1 Monday to approve a $1.4 billion budget for 2023, with Councilor Ethan Evans casting the only "no" vote.
All five Republican councilors voted in favor of the budget.
Councilors John Barth, Dan Boots and Leroy Robinson, all Democrats, were absent from the meeting.
The budget aims to take in $89,000 more than it spends. It includes a record $300 million in public safety spending, along with $288 million for roads, bridges and greenways, and $157 million in storm-water improvements.
Nearly 30% of public-safety appropriations are directed to the Indianapolis Metropolitan Police Department, while the Department of Public Works and Indianapolis Fire Department both received 22%.
The mayor's office said the budget includes funding to increase first-year pay for IMPD officers "to one of the highest levels in the Midwest" and introduce $10,000 signing bonuses to help fill 200 positions.
"The bipartisan passage of next year's budget is a major victory for Indianapolis residents, as we invest unprecedented resources towards public safety, chart a bold vision for the future of infrastructure, and enhance quality of life in neighborhoods throughout Marion County," Mayor Joe Hogsett said in written remarks.
The package also includes an up-to-$150 property tax break for homeowners, which costs the city $27 million; a physician-led emergency response team budgeted at $2 million; and a $500,000 addition to the Indy Achieves program, which provides scholarships to adults seeking college degrees or credentials.
In explaining his "no" vote, Evans said the city needs to do more to ensure pedestrian and cyclist safety. City Controller Ken Clark later said that is why the budget includes increased funding for trails and the addition of a traffic safety engineer.
Evans, an independent, also said the city should invest more to resolve issues of housing and homelessness. In 2021, he voted against the 2022 proposed budget for similar reasons. Evans left the Democratic Party last year and isn't running for re-election in his district, which has been redrawn to include him in the same district as Democratic Councilor Ali Brown.
Councilors also approved budgets for the city's five municipal corporations.
About $130 million in appropriations will go towards Indianapolis Public Transportation Corp. (IndyGo), $76 million to the Indianapolis Public Library, $315 million to Health and Hospital Corp., $156 million to the Capital Improvement Board, and $247 million to the Indianapolis Airport Authority.
The council also approved tax rates for the Indianapolis Metropolitan Police Department (0.12%), the Indianapolis Fire Department (0.32%) and solid waste collection (0.1%), but those didn't change much from the 2022 budget.
While the City-County Council has been supportive of Indianapolis Mayor Joe Hogsett's priority to create the physician-led response team, some have raised concerns. In a statement posted to Twitter last week, Evans said his "no" vote is partially because communication about how the response team would work has been unclear.
Councilor John Barth proposed an amendment to the budget priority ordinance Oct. 12 that requires the Office of Public Health and Safety to submit quarterly reports of funds spent and barriers to the program's implementation, helping councilors keep up with the office's progress. The amendment passed.

Councilor Brian Mowery, leader of the council's Republican Caucus, said in a statement that the caucus voted in favor of the budget because "we felt we could not turn down additional funding for law enforcement during a public safety crisis."
Mowery said there were still many questions to address. "We'd like to know how and why we have fewer police officers on staff now than we did a year ago despite budget increases allocated to hire more officers," he said. "Our infrastructure remains underfunded, and we have yet to see a long-term plan to fix it. Ultimately, while now is not the time for a "no" vote, we will continue to work to provide accountability and better government for residents of Marion County."
Please enable JavaScript to view this content.