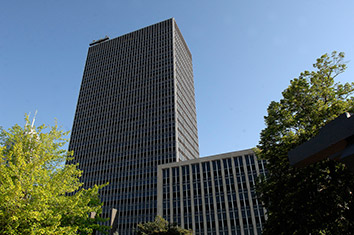 The Indianapolis City-County Council on Monday night unanimously passed a special resolution calling for a plan to end racial and social disparities in Indianapolis and directing city departments to assist in the effort.
The resolution calls for creating a steering committee tasked with developing a strategy to end racial disparities, with its first task identifying where disparities exist in city policies.
Co-sponsored by all 25 council members, the measure comes just a few months after more than 100 local leaders and elected officials took part in a workshop that examined the role of local government in advancing racial equity. The event was facilitated by the Government Alliance for Race and Equity, a national network of governmental units that proactively works to advance racial equity.
The resolution says changes are needed because minority populations in Indianapolis are far more likely to be the victims of violent crime; are over-represented in the city's population of homeless and incarcerated; are more likely to live in areas without access to adequate transportation or fresh food; more likely to be denied a mortgage; less likely to own a home; and far more likely to suffer poverty.
Councilors made it clear that equality is not the same as equity. The resolution says treating everyone equally won't address existing problems.
"Understanding the difference between equality and equity is important to ensure public policy and resources are directed appropriately," the resolution says. "Equity is not achieved by treating everyone equally; rather, eliminating racial and social disparities requires that policies are implemented and resources distributed in a way that justly addresses the underlying issues and needs of underserved and vulnerable populations among us."
The resolution makes a public commitment to addressing historical inequities of race, place and identity throughout city-county government.
Here, in its own wording, is what the resolution calls for:
The City-County government of Indianapolis will collaborate with partners to prioritize dismantling institutional and structural racism and bias and set our city on an accelerated path toward vibrant growth for all.
The principles of inclusiveness and respect are values that can create a healthier and more productive workplace, improve customer service, and drive policies and outcomes that benefit the entire city.
A steering committee of municipal leaders is tasked with developing and implementing an infrastructure to further promote racial and social equity across both the city and county and within each department, so that these efforts are fully integrated into departmental work and into our policies, programs and procedures.
City and county departments should use all available tools to work to eliminate disparities based on race, place, or identity across key indicators of success, including health, education, criminal justice, the environment, employment and the economy; and to promote racial and social equity in the delivery of city and county services. This work may include implementation of racial equity tools in budget, program and policy decisions, including review of existing programs and policies.
Municipal systems that were created in the past to explicitly or implicitly maintain racial inequities will be redesigned to build and sustain equity around race, place, and identity for all the residents of our beautiful city.
Council President Vop Osili, who spearheaded the effort behind the workshop and the resolution, said establishing equity is key to improving outcomes for all populations in Indianapolis.
"Systems that fail some of us, like black or Latinx residents, are actually failing all of us," he said in a written statement. "It's important to recognize that these disparities aren't random and will not be resolved on their own. It takes hard work. I want us to embed in our collective DNA a commitment to ending disparities in Indianapolis based on race, place, and identity. I am thankful to my fellow councilors for working together to make this effort a priority."
Mayor Joe Hogsett supported the resolution, calling Monday a historic day for the community.
"These challenges are not unique to Indianapolis, but I believe we are uniquely positioned to work collaboratively to address them," he said in a written statement. "I look forward to the challenge and the work we have ahead of us."
Other elected officials also publicly supported the resolution, including Prosecutor Ryan Mears and Sheriff Kerry Forestal, Marion County Auditor Julie Voorhies, Assessor Joseph O'Connor, Treasurer Claudia Fuentes, Clerk Myla Eldridge and Recorder Kate Sweeney Bell.
Please enable JavaScript to view this content.