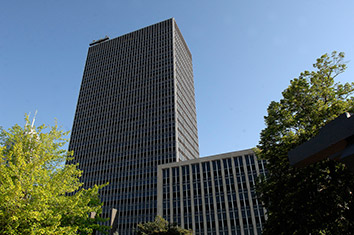 The city of Indianapolis released a study Thursday that looks at disparities minority-owned businesses face as part of the city's business-contracting processes.
The study commissioned by the city found minority- and woman-owned businesses are substantially underutilized in the city's contracting and procurement processes.
Conducted by Denver-based BBC Research and Consulting, the study is the start of a process that aims to improve transparency and fairness in city contracting efforts. It was initiated in January 2019.
A comprehensive disparity study on city contracting hadn't been conducted since 1995, when Republican Stephen Goldsmith was mayor.
The latest study looked at contracts from a five-year period from Jan. 1, 2014 to Dec. 31, 2018, meaning contracts from both Hogsett and former Republican Mayor Greg Ballard's administration were considered.
Hogsett told the media that tens of thousands of City-County contracts were looked at to produce the 600-plus-page report.
"This is my brief summary: We have work to do," he said.
The study assessed two factors in the relationship between minority-owned businesses and city contracting—utilization and availability—to calculate the level of disparity.
Utilization is the percentage of contract dollars that were spent with minority-, woman-, veteran-, and disabled-owned businesses, while availability is the percentage of contract dollars those businesses might have been expected to receive based on their ability to perform specific types and sizes of contracts during the same period.
BBC's study determined city contracts for the five-year period were valued at $876 million, and of that total, $128.1 million (or 14.6%) was spent with minority-owned businesses, who were available to bid on $169 million (or 19.3%) of contracts.
BBC looked at each contract and contacted more than 7,000 businesses in the metropolitan area through telephone and online surveys to assess availability, determining which minority-owned businesses were able and willing to bid on each contract.
Then, BBC divided dollars received by dollars available to determine a disparity index. A value equal to 1 was considered parity. A value of 0.80 or less was considered substantial underutilization.
When all contracts were considered, the disparity index for all minority- and woman-owned businesses was 0.76, although individual groups scored better or worse on their own. (White woman-owned businesses, for example, have a disparity index of 0.78, while black American-businesses have a index of 0.73).
The disparity index was closer to 1 for businesses involved in subcontracts rather than prime contracts, the study shows.
The study, which was released to the public at noon Thursday, can be found on the city's Office of Minority and Women Business Development web page.
The office is accepting public comment on the report until Feb. 29, while several city offices begin to consider recommendations and policy changes that would eliminate barriers such businesses face in participating in city contracting and improve the process.
Camille Blunt, director of the Office of Minority and Women Business Development, told IBJ she hopes to hear from small businesses about the barriers they specifically face in participating in city contracting and their recommendations for what the city can do to make changes.
The city already implements the Minority-, Women-, Veteran-, and Disabled-owned Business Enterprise Program, a city program that aims to enhance procurement opportunities for M/W/V/DOBE businesses in city contracting. Also, city code sets contracting utilization goals for different groups: 15% for minority-owned businesses, 8% for woman-owned, 3% for veteran-0wned and 1% for disability-owned.
Please enable JavaScript to view this content.