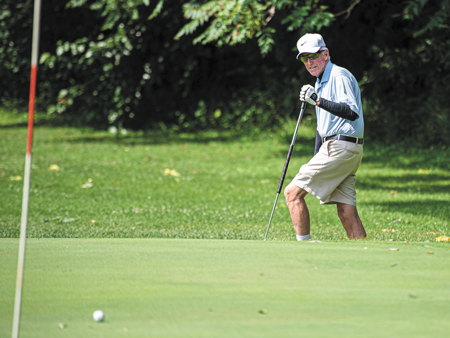 Indy Parks is grappling with the future of its 13 golf courses—a reassessment spurred by steady declines in revenue, less interest in playing the sport, and millions of dollars in needed facility upgrades in the coming years.
In addition to Riverside Golf Course—which Indy Parks said this spring will permanently close after this season as part of a massive public redevelopment along the White River—IBJ has learned that South Grove Golf Course also will close, though the timing isn't set.
On top of that, Thatcher and Whispering Hills golf courses were recommended for closure in a study commissioned last year by Indy Parks. Their closures would lower the city's course count to nine.
"Since golf has seen a downturn over the last several years, we're hopeful that, by decreasing the supply a bit, it will be able to make our other golf courses healthier," Indy Parks Director Linda Broadfoot told IBJ.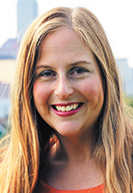 The city's four highest-performing courses—Eagle Creek, Smock, Sahm and Sarah Shank—accounted for 58% of the $6.9 million in revenue generated in 2018. The study, submitted to the city last December, recommended all four remain open and receive millions of dollars in improvements.
Thatcher and Whispering Hills are nine-hole courses, while Riverside and South Grove are 18-hole courses. The four collectively account for about 15% of revenue generated at city-owned courses. Although none is a stellar performer, Riverside and South Grove each generated more revenue last year than did Coffin or Frederick Douglass. The study recommended closures based on several factors, not revenue alone.
The Riverside Park master plan specifically states South Grove will close, but Broadfoot said the city hasn't determined when that will happen. Nor has it decided whether to move forward with closing Whispering Hills or Thatcher.
"The golf study contemplates potential concepts for the future, [but] at this time no determination has been made" about how the courses will be repurposed, she said.
South Grove, Thatcher and Whispering Hills all have management agreements that run through 2024, so they're unlikely to cease operation before then.
"Whatever happens with the plan we're putting together, it won't include us selling off any of the land," Broadfoot said. "Our intention is to keep that space public."
The study proposes a variety of alternative uses for golf course land, including community centers, amphitheaters, walking trails, playgrounds, dog parks, sports fields, zip lines and canopy walks, foot golf, motocross and horseback riding.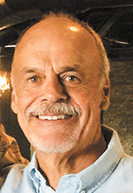 It also proposes environmental-related uses, such as switchgrass farming, solar farms, and wetlands and nature preserves.
The study's suggestions for Whispering Hills are particularly ambitious—a mountain bike trail, an archery range and a drone racing course.
The study, which cost the city $290,000, was conducted by the Indianapolis architectural firm Ratio, along with Indianapolis-based WDi Architecture and Greenstreet; Chicago-based Pellucid Corp.; and Milwaukee-based Edgehill Golf Advisors.
Ratio principal John Jackson said converting the properties into public parks would be beneficial on several fronts.
"It's just interesting when you step back and look at all the different ways the city can generate revenue from public spaces," he said. "It also creates an opportunity for some cool, unique ideas to come to life."
Several of the study's suggestions "would replace revenues from greens fees, and that probably a lot more people would get use from," Jackson said.
Too many courses
Both the study and experts say central Indiana has too many golf courses, given golf's decline in popularity, and would be better served by converting some into other uses. The Indianapolis area has at least 50 golf courses, nearly all more than 20 years old.
"We have the same golf course supply that we've had for a long time," said John Snell, a Fishers-based land appraiser who specializes in golf courses. "Since demand has been flat and pretty stagnant overall, that hasn't boded well … for course managers."
The local golf market is about 10% oversupplied, according to the Ratio study. An additional decline in demand of 20% is expected by 2025, as more baby boomers age out of playing the sport, supplanted by younger generations that don't show the same affinity for the game. That gap could cause interest in the sport to fall 40% to 60% by 2035, the study indicated.
"We're seeing a lot of courses fighting to hang in there," Snell said. "Even newer courses have some age, and need investment, but it's really tough to justify that right now."
Snell said the stagnation of interest follows a boom in course construction at the height of the sport's popularity in the 1980s and 1990s, spurred partly by celebrity players like Phil Mickelson and Tiger Woods.
A study by the National Golf Foundation counted 30.6 million golfers in the United States in 2003. By 2014, that figure had fallen to 24.7 million.
Riverside's closure comes as the city moves forward with a master plan for Riverside Park, just south of the course, that includes taking over both Riverside and South Grove golf courses.
Possible elements include a new aquatic center, amphitheater, improvements to Kuntz Stadium, an expanded family center, and new multi-use sports facilities.
Declining revenue
Since 2011, the city's 13 courses have seen nearly a 10% decline in revenue. Last year, they brought in $6.9 million and hosted 228,464 rounds. Three years earlier, they brought in $7.4 million and hosted 284,000 rounds.
The courses were privatized in 1993 under then-Mayor Steve Goldsmith, who turned over a variety of public services to the private sector in a quest to reduce cost and improve quality.
Each golf course is managed by one of five firms—Denny Ford, MAN Golf, Capital City, Cooprider and RN Thompson—which receive most of the revenue generated from greens and cart fees, concessions and the driving range.
"The courses are in much better shape than they were 25 years ago," said Mike David, president of the Indiana Golf Office. "They're run more efficiently now, because you now have people running them like it's their own business, not like they're running a business for someone else."
Managers are responsible for routine maintenance, as well as operating expenses. The city receives 7% of revenue, a cut that last year added up to $456,000.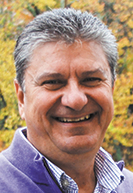 According to the study, Thatcher is by far the city's worst-performing course, with just 6,603 rounds played last year and revenue of just $110,187, down 26% since 2011.
"This plan would recommend that the course be closed as soon as practical," the report said.
The busiest course, 36-hole Eagle Creek—designed by famed course designer Pete Dye—brought in $1.4 million and hosted 33,858 rounds.
South Grove in 2018 brought in $434,113 and hosted 18,046 rounds.
Whispering Hills is a "strong candidate for closure," according to the study, which cited poor performance and bad publicity tied to a landfill near the course that leaked in 2016. The course hosted 11,265 rounds in 2018, generating $191,461.
Capital City manages South Grove and Thatcher, while Cooprider manages Whispering Hill. Riverside is managed by MAN Golf.
According to the Ratio study, city-owned courses are likely to require more than $27 million in capital investment over the next 20 years, including new clubhouses, updated infrastructure, irrigations systems and modernized course designs.
David said that figure is on par with—if not a little below—what is seen at aging courses elsewhere in Indiana.
"I think from a capital improvement standpoint, everyone's facing the same thing," he said. "It sounds very normal that you'd have that type of expense for courses like this. … [In fact,] that almost sounds low to me."
Broadfoot said Indy Parks has no plans to change the way its courses are managed, noting the city wants to "ensure that public funds are being used in the most efficient" way possible, and to promote fair competition for course contracts.
And she said no closures are imminent, either, beyond the already announced plan to close Riverside this year.
But longer term, she added, repurposing hundreds of acres of golf course land creates an opportunity for Indy Parks to roll out dynamic new ways to engage residents.
"We will continue to adapt to the changing golf market and open space needs of our city."•
Please enable JavaScript to view this content.