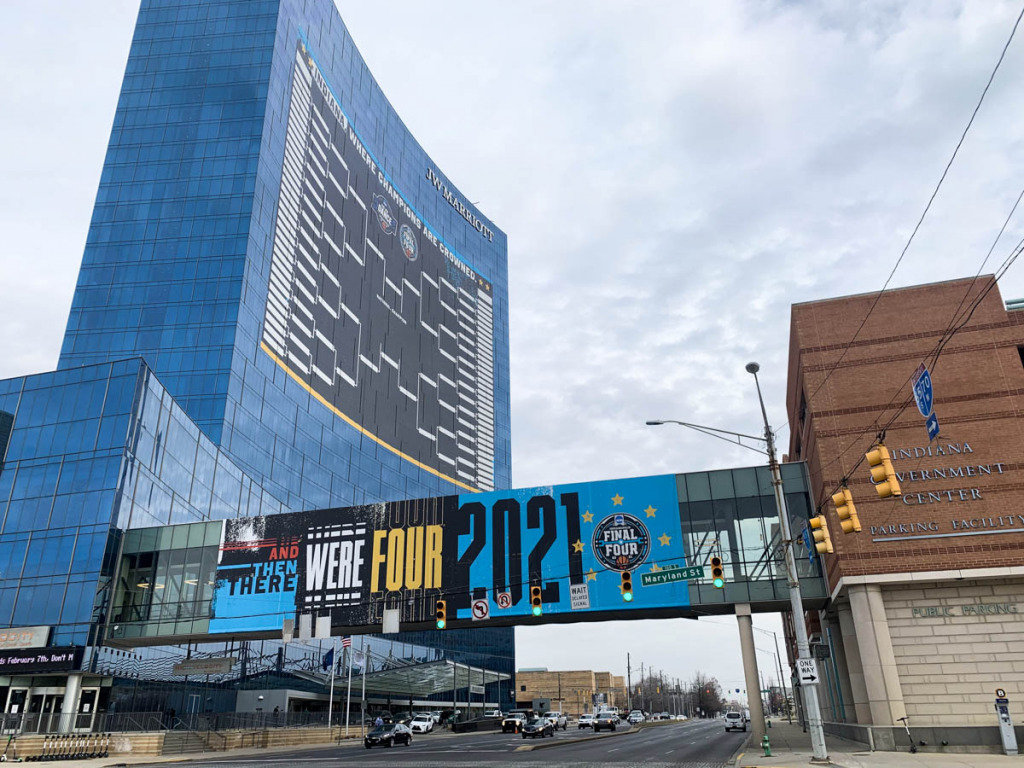 How Indianapolis handles the NCAA tournament could play a vital role in defining its future as a major convention and event hub, experts say.
The next three weeks could jump-start a tourism industry decimated by the lack of large gatherings during the pandemic. But event planners agree that any positive bounce largely depends on Indianapolis' ability to contain COVID outbreaks.
Tourism officials are already trying to leverage the event into sustained, consequential growth. Visit Indy plans to bring in a small group of "key decision-makers" from across the United States throughout the tournament, said Chris Gahl, vice president of the organization.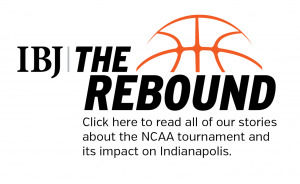 The hope, he said, is that letting major event executives safely see Indianapolis' capabilities and the complexity of hosting the event will turn into future convention business.
Invitations went out the first week of March to fewer than a dozen decision-makers, with plans to showcase tournament games, particularly the Elite Eight and Final Four.
"If we can leverage this moment … and book another solid number of meetings for future years like we did with the Super Bowl in 2012, that's a big win for us," Gahl said.
Indianapolis was able to secure dozens of meetings directly from the Super Bowl that had an economic impact well exceeding $100 million.
Gahl and other city officials are hopeful the NCAA Tournament brings a breadth of new conventions and sports competitions, rather than bigger or better ones. He said the tournament has helped retain some convention business and put Indianapolis in contention for some major groups still making decisions about future events.
"It's given confidence to other citywide conventions who are on the fence about whether they pause a little longer before making a decision" on canceling or moving ahead, he said.
For example, Visit Indy executives on March 11 held a videoconference with a major medical convention that's narrowed its options to Indianapolis and one other city. Gahl declined to identify the group, but said Indianapolis was nearly dismissed from contention before the NCAA's announcement in January that it would hold its tournament here led the group to take a closer look.
"Much of that presentation [focused] on what we've been able to do since the pandemic hit, the [$7 million] safety upgrades put into the Indiana Convention Center, and, moreover, what we're doing to host the NCAA March Madness tournament in its entirety," he said. "That was our distinguishing factor to set us apart from the other city we're competing with."
Gahl acknowledged the city is facing mounting pressure, as the tournament nears, to make sure it goes smoothly—tip-off is March 18. But he said Indianapolis is prepared for the moment.
Debbie Locklear, president of locally based event planner Meeting Services Unlimited, agreed.
"We have the people and the experience to pull it off," she said. "That's been the message that the city has delivered for years, as far as being able to host an event like this here in Indianapolis."
'A lot riding on this'
The city has been hosting events sporadically since July, making it one of the few cities whose tourism industry has remained active during the pandemic. Most of those events have been small—fewer than 10,000 people—and focused on youth sports. Indianapolis was already slated to host the 2021 NCAA Final Four, which typically provides a solid marketing and economic boost.
But hosting the entire NCAA Tournament could be a major milestone in the effort to return to normalcy, experts say, because the event's dynamics are similar to those of the NBA and NHL bubbles created last summer.
While it integrates several new components, not the least of which is spectators, the NCAA Tournament is not the first championship welcoming crowds during the pandemic. The Super Bowl and the College Football Playoff National Championship each allowed fans, but those events were conducted across far fewer calendar dates.
"This could well be the thing that opens the doors [nationally] to say, 'OK, we can get back to some level of national participation with these youth and collegiate tournaments," said Al Kidd, president and CEO of the Sports Events and Tourism Association. "So, I think there's a lot riding on this."
Gahl said that, after the Super Bowl, the city went through a period of "blues" tied to the lack of major events on the calendar afterward.
"We could find ourselves similarly, after being awarded this very unique event—having an intense, very short period of time to plan for and then execute—that we'll have another shot of civic pride in the arm and feel incredibly proud of our city," he said. "And with that, we'll pause and say, 'What's next?'"
Indianapolis has a few key events on the horizon, starting with the 2022 College Football Playoff National Championship, followed by the rescheduled NBA All-Star Game in 2024 and the NCAA Men's Final Four again in 2026.
The city is expected to break ground on a major expansion of the Indiana Convention Center next year, too.
So far, about 15 events on the convention center and Visit Indy websites forecast a total of about 170,000 attendees through the end of 2021. Some large events—including PopCon and Gen Con—aren't listed because of continued pandemic-related uncertainty; they were both canceled in 2020.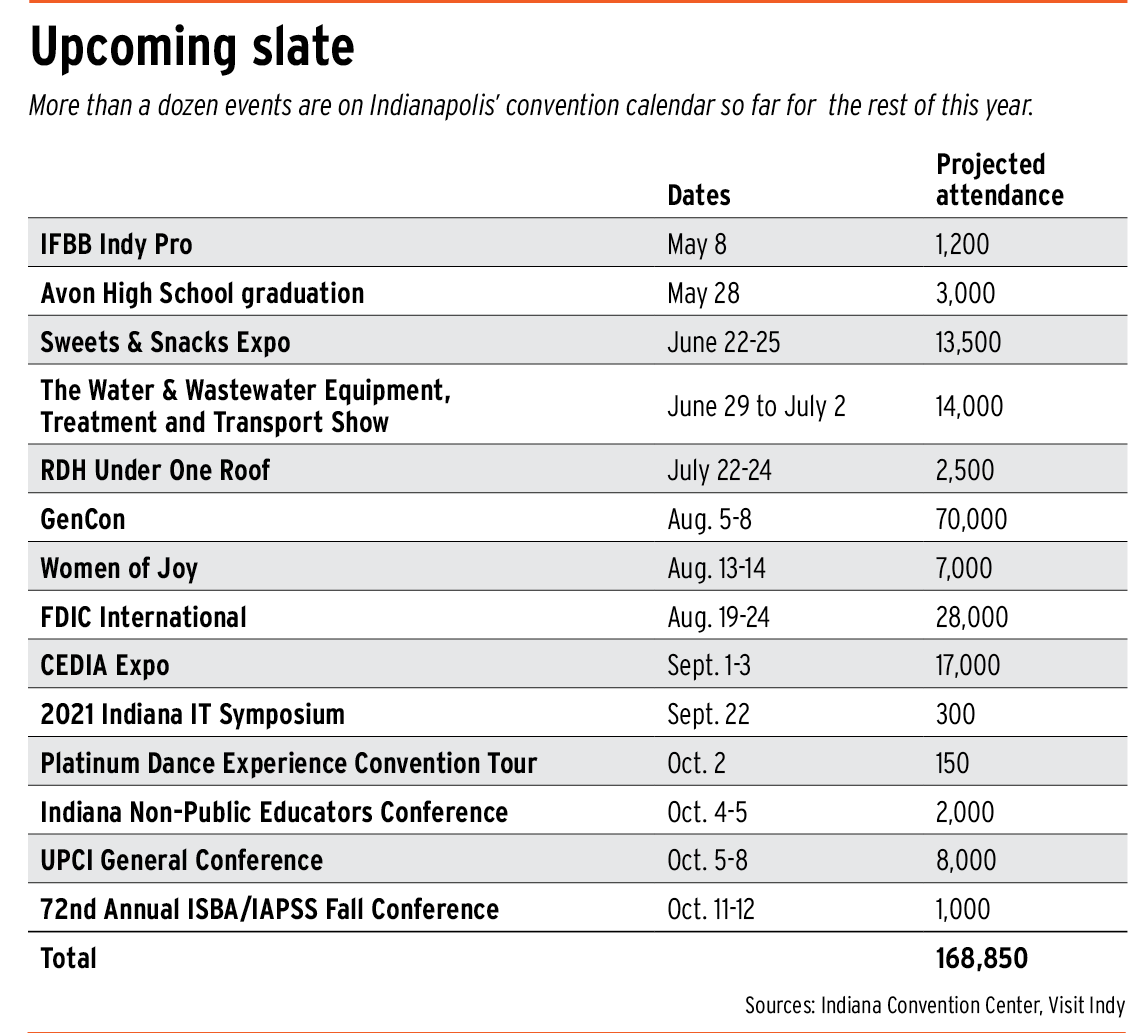 However, Visit Indy officials have said they are hopeful that events slated for later this year will stay solid, which could mean groups like PRI and National FFA will be able to take over the convention center again in late fall and winter.
PopCon co-founder Carl Doninger, who is prepping for his own event in July, said the NCAA Tournament—and a strong rollout of vaccines, particularly within the state—could set the stage for conventions to return to the convention center as scheduled by late spring.
"I think it could go a long way for us, and other events that are going to be in Indianapolis over the next several months," Doninger said.
'We need to ace it'
It's not clear how much of a success the tournament will have to be for the city to tout its hosting duties. While everyone seems to agree there can't be a catastrophic breakdown, city tourism officials and multiple experts are offering differing views on how many cases of COVID-19 would be too many.
Allison Melangton, vice president of Penske Entertainment, said she has "no doubt" that NCAA and local officials are prepared to prevent a serious outbreak through their social-distancing and isolation protocols. But she also doesn't expect there to be zero COVID cases.
"I think it's hard to say any plan is absolutely perfect," she said. "You know there's likely to be a case here or there, and mitigating it quickly, and addressing it and then keeping everything moving forward is going to be the key."
The NCAA in early March established additional protocols related to competition and what will happen if a team is exposed to the virus—generally resulting in the team's being eliminated from competition.
Locklear, the meeting planner, said the city has little margin for error if it's going to make the most of its marketing opportunities. "I think they really need to nail it," she said, pointing to skeleton crews at local hotels for the past few months, and how the tourism industry turns on perceptions. "We need to ace it. And that's in a lot of people's hands to make sure that happens."
Doninger said teams and fans might not be happy with an early exit due to COVID exposure, but the fact that the tournament is happening is a feat in itself.
"The fans won't necessarily like that their team is out, especially if it's a title-contender like Gonzaga, but it's the correct response," he said. "Every school has to go into the tournament understanding the ramifications of the expanded rules of conduct. They can't expect to be favored in any way when it comes to the safety protocols."
What's next?
Amanda Cecil, an IUPUI professor of tourism, said hosting the event will "be a huge market differentiator" for Indianapolis over the coming years—especially if the tournament goes well from a public-health standpoint.
"I think we probably are going to get opportunities to have a bigger suite of these large citywide events, whether they're in sports, business or cultural events," she said. "But I would stress that Indy has a history of already doing those."
Kidd, the sports-tourism expert, said Indianapolis could probably "upgrade its resume" on the national and international sports stages, in particular, creating the opportunity for championships that haven't been held here. And U.S.-based, multi-sport events, like the National Senior Games and the National Transplant Games, might give the city a closer look.
The 1987 Pan Am Games are generally recognized as the event that put Indy on the map. It's also hosted international championships in basketball, golf, gymnastics and swimming, as well as multiple U.S. Olympic trials.
"If Indy can produce at the level of quality that I expect they can, they'll be able to market that—something nobody else will be able to do," he said.
Doninger called the tournament a "mini version of the Olympics," adding he thinks the city can handle bigger events "without issue."
"This is definitely a stepping stone, in our case," he said, "for doing something bigger."
Doninger also said he would like the NCAA to consider hosting the event in its entirety in Indianapolis again, with full attendance. But the NCAA and local officials have said that's unlikely.
Gahl said determining how the city will fully leverage its exposure from the tournament is not likely to come for several months, or even years. But that doesn't mean the gears aren't turning. He pointed to possibilities like a renewed effort to bring the NFL Draft to Indianapolis—something IBJ has reported the city had an interest in doing ahead of the pandemic.
He said it could also stoke interest in going after the Super Bowl again, or the Democratic or Republican national conventions, on top of new business it hopes to garner from national professional or amateur sports tournaments.
"I'm not saying we are going to go after the Super Bowl, or we are going to go after the NFL Draft, but this gives us the confidence to be able to say to any organizer, 'We're capable of hosting your event,'" Gahl said.
He added that the complexity of the tournament gives the city an avenue to discuss safe options with meeting organizers who don't yet have a grasp on successful planning in a post-COVID era.
"If they're looking for a city that's capable," he said, "we'll simmer to the top without question."•
Please enable JavaScript to view this content.