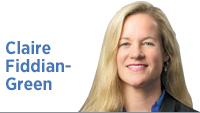 COVID-19 continues to present significant challenges across all facets of our lives and has also highlighted long-standing challenges that predate the pandemic. This includes how few students, especially females, are prepared for employment in science, technology, engineering and math (STEM) fields.
This is problematic because jobs across sectors increasingly require a strong STEM foundation. Given substantial gender-based differences in STEM outcomes, we need to double-down on efforts to prepare girls and women for STEM careers, encourage their interest in fields such as computer science and engineering starting as early as elementary school, and support their successful career journeys.
Indiana's pre-pandemic ILEARN results show that, in 2019, just 48% of students in grades 3 through 8 passed the math portion of the state assessment and 47% of students in fourth and sixth grades passed the science portion of the test. Tenth-grade biology passing rates were 39%, and 10th-grade math passing rates were 36%. These shockingly low passing rates have since worsened due to COVID-related learning interruptions.
Fast forward to college. A recent report from Business Equity for Indy finds that, while significantly more female Indiana high school graduates (65%) enroll in college than male high school graduates (51%), only 10% of female students in Indiana graduated with a postsecondary STEM degree compared to 31% of males. This mirrors national data and translates into fewer women working in STEM jobs. In fact, women make up nearly half of the U.S. workforce but only 27% of STEM workers, and they earn only 84% of men's earnings across all STEM occupations.
One factor driving poor K-12 outcomes is a STEM teacher shortage. 100Kin10, a national organization working to grow the supply of STEM teachers, points to a number of systemic challenges that have contributed to shortages. One is that few elementary teacher preparation programs have a STEM focus, resulting in elementary school teachers unprepared to teach math and science.
But new research from Cornell University finds that the biggest driver in gender-based STEM gaps is gender differences in high school students' occupational plans. Among U.S. high school senior boys, 26% planned to enter STEM careers compared with 13% of girls. These differing aspirations carried through into differences in college majors and careers. The study concludes that efforts to reduce gender differences in STEM must begin earlier than college and include efforts to expose female students to STEM career opportunities at a young age.
It is also crucial to tie career aspirations to student coursework. If a student desires a STEM career but doesn't take enough math or science in high school, he or she is unlikely to qualify for selective college programs. Purdue University, for example, requires undergraduate engineering applicants to have chemistry experience.
With fewer people in the labor force today than before the pandemic, we must intensify our efforts to ensure we are preparing more people for careers in high-wage, high-demand fields. That should start by ensuring we help all K-12 students master math and science fundamentals. It should also include growing the number of females who major in STEM and pursue STEM careers.
Each February, we celebrate International Day of Women & Girls in Science. Let's use this year's event as a springboard to galvanize our efforts to prepare more Indiana girls for STEM careers and support them along their education and employment journeys.•
__________
Fiddian-Green is president and CEO of the Richard M. Fairbanks Foundation, whose mission is to advance the vitality of Indianapolis and the well-being of its people. Send comments to ibjedit@ibj.com.

Click here for more Forefront columns.
Please enable JavaScript to view this content.