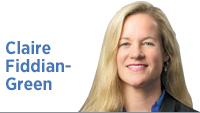 Research shows that teachers are the number one in-school factor affecting K-12 student academic outcomes. A teacher's race also influences learning outcomes. Numerous studies find that students benefit from having racial diversity among their teachers. The benefits for Black students of having same-race teachers are even more significant.
However, the vast majority of individuals enrolled in teacher preparation programs in the United States—including in Indiana—are white, all but guaranteeing that Black students will mostly be taught by white teachers. How can we grow the supply of Black teachers in Indiana, thereby helping to improve educational attainment outcomes for Black students?
Race-based differences in academic outcomes—referred to in K-12 education as the "achievement gap"—have persisted for years. The differences in outcomes between white and Black students are particularly stark and deeply disturbing.
For example, 43% of white students earned a passing score on both the math and English language arts portions of ILEARN, Indiana's statewide assessment, compared with 15% of Black students. Meanwhile, 69% of white high school students in Indiana earned AP or dual credit compared with 39% of Black students. And while 58% of white high school students in Indiana meet national college-readiness benchmarks, only 20% of Black students do.
Two steps Indiana can take to help address these racial inequities is to encourage more Black individuals to choose teaching as a career path and to target resources to support Black teacher candidates through their training. Why? Because Black students do better in school when taught by at least one Black teacher.
For example, one study found that being assigned to a same-race teacher significantly increased the math and reading achievement of both Black and white students. Another study found that Black students taught by a Black teacher were 7% more likely to graduate from high school and 13% more likely to enroll in college than their peers in the same school who were not taught by a Black teacher.
Strong educational attainment outcomes are linked to a student's access to rigorous coursework, a supportive learning environment and strong instruction from teachers with high expectations. Research demonstrates that Black students are more likely to be referred to gifted and talented programs when taught by a Black teacher. Additionally, Black teachers have higher expectations for Black students' educational attainment than non-Black teachers do.
In Indiana, only 5% of individuals enrolled in our state's teacher preparation programs are Black. White individuals, on the other hand, account for close to 90% of those enrolled. Meanwhile, 10% of our state's population and 28% of Marion County's population are Black. The percentage of Black students enrolled in Marion County public schools, including districts and charter schools, is even higher, at 36%.
If we are serious about addressing race-based gaps in K-12 education outcomes, we must grow the supply of Black individuals enrolled in our teacher preparation programs and of Black teachers working in Indiana schools with high percentages of Black students.
We could start by establishing statewide and district-level goals for increasing the racial diversity of educators and publishing a dashboard documenting progress toward these goals. We can also raise awareness about publicly funded resources like the William A. Crawford Minority Teacher Scholarship.
This Black History Month, we should commit ourselves to closing the persistent Black-white academic achievement gap. We can begin by increasing the racial diversity of Indiana's teacher workforce.•
__________
Fiddian-Green is president and CEO of the Richard M. Fairbanks Foundation, whose mission is to advance the vitality of Indianapolis and the well-being of its people. Send comments to ibjedit@ibj.com.

Click here for more Forefront columns.
Please enable JavaScript to view this content.