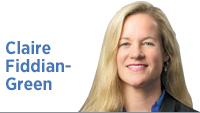 September marks the 45th anniversary of the year my family immigrated to the United States. Eight years later, we were naturalized as citizens. I remember my mother and father studying for the citizenship test, which covered topics like the Constitution. It was with great pride that my parents passed the naturalization examination and assumed their rights as American citizens.
As an adult, I was disconcerted to learn how few Americans know basic facts about our democracy. For example, in 2019, only 39% of Americans could correctly name all three branches of government, and in 2017, only 14% named freedom of the press as one of the five rights protected by the First Amendment. A low level of civics literacy might be one reason Indiana consistently ranks among the bottom 10 states in voter turnout.
During this past legislative session, Indiana lawmakers took action to address this knowledge deficit by establishing a requirement for all middle school students to successfully complete a one-semester course in civics education. In addition, students who complete a U.S. government course must now take the naturalization examination provided by the U.S. Citizenship and Immigration Services.
These are positive steps toward increasing civics literacy in Indiana. We should extend these actions further by engaging students more directly in democratic processes. This would help bring our system of government to life, potentially increasing the likelihood students will remain engaged in our democracy as adults.
Laura Merrifield Wilson, an associate professor and pre-law adviser at the University of Indianapolis, developed the following idea during her 2020-2021 fellowship experience with the Mitch Daniels Leadership Foundation: We should promote and motivate students to participate in Hoosier Hall Pass, a program established by the Indiana secretary of state, administered by circuit court clerks in all 92 counties, and available to high schools across Indiana. The program allows 16- and 17-year-olds to serve as trained poll workers during elections.
Right now, participation in Hoosier Hall Pass is low, and there is often a shortage of poll workers on Election Day. With expanded marketing and aligned incentives, more students might participate, helping both to increase youth civics engagement and to keep polling places fully staffed.
Laura has made good progress implementing her idea. She was accepted as a pro-bono client by the University of Indianapolis' Top Dog PR firm and also received a $5,000 grant through the Indiana Campus Compact to enable her students to survey county clerks and social studies teachers about their needs when it comes to implementing Hoosier Hall Pass. She recently presented to the Association of the Clerks of the Circuit Courts of Indiana and will soon be presenting to social studies teachers.
Once she has a better idea of the kinds of support clerks and teachers would appreciate, Laura can design a PR campaign to help promote the Hoosier Hall Pass program and increase student participation.
Laura's passion for civics education is exactly the kind of energy we need to generate increased engagement in our democratic processes. Perhaps Indiana's new Commission on Civic Education could develop an annual competition to generate ideas like Laura's, designed to promote civics literacy and strengthen the fabric of our society.
It's a privilege to be American citizens and enjoy the rights enshrined in our Constitution. Let's do everything we can to pass along a keen understanding of our democracy and its foundations to the generations that come behind us.•
__________
Fiddian-Green is president and CEO of the Richard M. Fairbanks Foundation, whose mission is to advance the vitality of Indianapolis and the well-being of its people. Send comments to ibjedit@ibj.com.

Click here for more Forefront columns.
Please enable JavaScript to view this content.