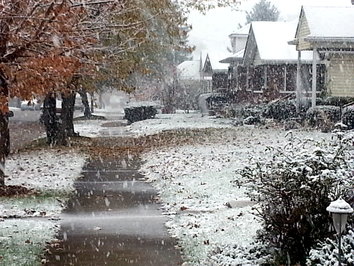 The unforgettable lyric to Irving Berlin's classic holiday song may need a rewrite: "I'm dreaming of a warm Christmas, unlike the ones I used to know" . . .
Exceptionally mild weather dominating the Lower 48 this month shows little sign of meaningful change through the Christmas holiday. This means rather underwhelming chances for a white Christmas in many parts of the United States, a state of affairs to which we probably should become accustomed.
Our warming climate appears to be eating away at white Christmas chances, newly available data shows. But Indianapolis appears to be an exception.
This week, the National Oceanic and Atmospheric Administration released white Christmas probabilities across the United States, basing them on the most recent 30 years of climate data that revealed broad decreases compared to just a decade ago. The changes "are consistent with the reality of long-term warming," NOAA wrote.
The observed changes have been rather subtle, but "more areas experienced decreases in their chances of a white Christmas than increases," the agency said. NOAA's criterion for a white Christmas is one inch of snow on the ground on the morning of Dec. 25.
How have white Christmas chances changed in our nation's cities in the past decade? We analyzed NOAA's white Christmas data in the 25 biggest cities, from Seattle to D.C., and, unsurprisingly, found declines in most of them:
— 18 of the 25 cities saw their chance of a white Christmas decrease; Denver and Columbus saw the largest drops (six percentage points). Washington D.C.'s odds of a white Christmas plummeted from around 8% to just a little over 4%.
— Four cities' chances were unchanged (Indianapolis, Minneapolis, Portland and Dallas)
— Three saw their chances increase, but only by one or two percentage points (New York, Philadelphia and Raleigh)
(Boston—which was among the 25 cities—had incomplete snowfall data, so we substituted Providence, R.I.)
Our results are consistent with an analysis from CNN, which found 64% of the 2,000 locations in NOAA's database exhibited decreases in their white Christmas chances.
The Associated Press, using an analysis from the University of Arizona, also described a marked falloff in Christmas snow between the 1980s and 2010s. In the 1980s, 47% of the country had snow on the ground on Dec. 25, with an average depth of 3.5 inches. But, by the 2010s, the snow cover extent was just 38%, with an average depth of 2.7 inches.
Rising temperatures are the probable reason for the most noticeable declines in southern areas because that circumstance increasingly favors rain rather than snow.
The Lower 48 has already seen three bouts of record-breaking warmth this month, with many areas on track for their warmest December on record. Accordingly, snow cover is considerably below normal across the country. As of Saturday, about 29% of the nation has snow cover compared to a more typical value of 37%. Only four years since 2003 have had less extensive snow cover than this one.
Computer models for the period around Christmas project a fourth burst of warmth that will probably greatly limit snow potential and melt away previous snow cover in a number of areas.
While the specifics are subject to change, the temperature forecast for Christmas over the Lower 48 looks much like it has so often this month. Model simulations show a high likelihood of milder than average weather over much of the country, with abnormally warm weather in the central states, especially the Southern Plains. Chillier-than-normal conditions are isolated to the very north central U.S. and perhaps parts of California.
The European modeling system's simulation of snow cover on Christmas morning only shows at least an inch of snow in northern New England, the northern Great Lakes and Upper Midwest, and Mountain West. The Mountain West will, by far, be the most wintry part of the country, especially in the Cascades and Sierras, where a succession of storms will have unloaded massive amounts of snow.
A number of places that typically have white Christmases, such as large parts of Iowa, Wisconsin and even southern Minnesota, which recently experienced tornadoes, may well awaken to bare ground on Dec. 25.
Welcome to the new normal.
Please enable JavaScript to view this content.