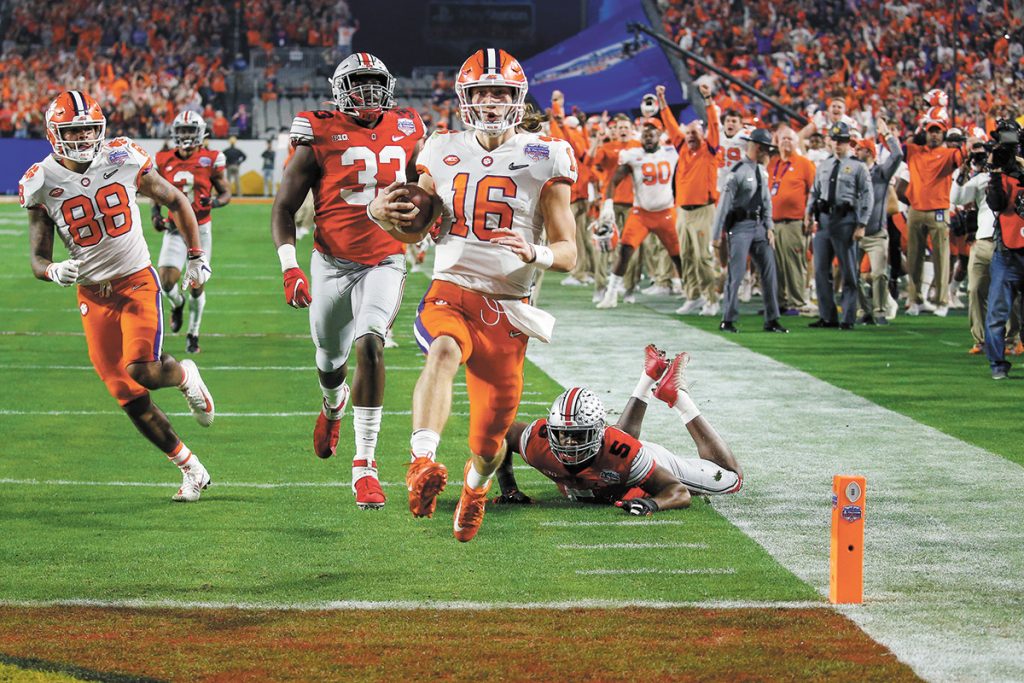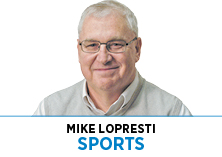 Too early to send in the Indianapolis wish list for the 2022 college football national championship game? Probably not. With Clemson and LSU set to meet in New Orleans on Jan. 13, it's a reminder the clock is starting to tick for Indy.
Exactly two years from now, Jan. 10, 2022, the title will be decided in Lucas Oil Stadium. Which is why the Indianapolis woman with a crammed folder of papers and a busy schedule has places to go today, tomorrow and beyond. "They will fly," Susan Baughman says of those two years. "Sometimes we're waiting, but a lot of time we're moving."
Baughman has been to every College Football Playoff national championship game. Not even Nick Saban can say that, and he gets paid a lot more at Alabama. Baughman has long been a mover and shaker for Indy Sports Corp., helping make the city an electromagnet for big events, from the Final Four to the Super Bowl. The CFP title game has always been a trophy Indianapolis wanted for its collection. Baughman is president of Indy 2022 College Football Playoff, so you know why she'll be in New Orleans this weekend, to study the landscape. Just like she was in Santa Clara last year, and Atlanta the year before that, and Tampa and …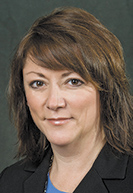 "I feel lucky, now that we're being able to host, that I've gotten to see every city. The most important thing for me to be focused on in New Orleans is the similarities between that town and our town. Of all the places [the CFP] has been, it's the most walkable. It's more like us in its structure."
She and the rest of the Indianapolis group have at least 20 places to visit in New Orleans. Presumably, that doesn't include one of the voodoo shops in the French Quarter, but if they do drop by to submit any early requests to the spirits, here should be the priorities.
◗ Ohio State in the 2022 game. Any team will bring a crowd, but the Buckeyes are only three hours away and would roll across the state on Interstate 70 like a tsunami. You think New Orleans is giddy about having LSU? A memorable sight from Ohio State's national championship victory in the 2003 Fiesta Bowl was the thousands of Buckeye fans descending upon Arizona without tickets, just to be a part, flooding the streets of Tempe. Imagine that same kind of pilgrimage to downtown Indianapolis.
◗ An SEC contender. Or Clemson. Or both. They're nuts about football, and their legions of fans spend dough at bowl games like it's Monopoly money. Since, by most rankings, Clemson just signed the No. 1 recruiting class in the country, and six of the next seven are SEC members—Georgia, Alabama, LSU, Auburn, Texas A&M and Florida—that bodes well for 2022. As does the recent history of the CFP. Of the 10 spots in the past five title games, all 10 were filled by either Clemson or an SEC team.
◗ A bottomless bucket of enthusiasm for local organizers and volunteers. The Indy sports calendar ahead reminds you of an all-you-can-eat buffet. Over 12 months, starting in February 2021, the city will say hello to the NBA All-Star Game, Final Four and CFP Championship. Not to mention the usual ration of Big Ten tournaments, and the like.
Any danger of a case of the dreaded BEFS? Big Event Fatigue Syndrome? "We're able to market them together and we're able to talk about the opportunity to volunteer across the board," Baughman says. "I see it more as a positive than a challenge."
◗ Something downtown that ends up a smash hit with the locals. Which begs an important question that all of Indiana wants answered before January 2022. Will there be a zip line?
"I don't know if there'll be a zip line. There'll be something amazing and surprising like that," Baughman said. "I think the challenge is always there for every event organizer to take what we have as our infrastructure and raise it a level and do something creative with it, do something different. I think the real challenge for us is, what is that big idea? We haven't sprung our big idea yet—what can we do for our community here? We want to be a great host to all these fans coming in, but we never forget about the people who are here, because I think that really adds to the event."
◗ Nothing—please, absolutely nothing—from the Statehouse that could explode into a crisis. Indianapolis organizers had to go to condition red when the infamous RFRA legislation nearly wrecked the 2015 Final Four.
◗ Oh, and one last thing. Put this at the top of the list, actually: a big kiss on the Indianapolis cheek from Mother Nature. You might recall how the city hit the jackpot on weather for the 2012 Super Bowl. Winter? What winter? Timing was everything. Indy bid for the 2011 game and it ended up a blessing to lose that Super Bowl to North Texas. An ice storm cut a swath across the nation and pretty much turned Dallas into Siberia. The next year, downtown Indianapolis was a comfortable outdoor party, zip line and all.
"You figure out how we can weather-proof the event as best we can and then you just pray for it," Baughman says. "It's football. It's not bad to be in a coat for football. We can never plan for the great weather, but we can hope for it."
Yeah, that list should work for a start. Indianapolis is an old hand at big sports events, but the CFP is something new. It'll be another chance to push the bar higher, especially given the fact Indy is the first cold-weather host since the CFP's birth for the 2014 season.
"For me, it's very motivating. I think for our host committee it is," Baughman says. "An interesting fact about all this is, because it's not a terribly old event, there's room for that creativity to put the Indianapolis mark on there. We're the first city who isn't a bowl game city that's hosting, so I think that adds to the pressure and the curiosity of what we will do. The pressure's always on us to create something new, different, bigger, exciting for the fans.
"Our legacy will be in what we do, not what we talk about doing. We need to host this and we need to host it better than anyone else to get it back here. To be able to show the national CFP this is the kind of event you can have. I think the onus is on us to really create that, so it is possible for us to do it again and other [northern] cities to do it, too."
It'll take good planning, good help and good luck. Yeah, a stop at a voodoo shop in New Orleans this weekend might not be a bad idea.•
__________
Lopresti is a lifelong resident of Richmond and a graduate of Ball State University. He was a columnist for USA Today and Gannett newspapers for 31 years; he covered 34 Final Fours, 30 Super Bowls, 32 World Series and 16 Olympics. His column appears weekly. He can be reached at mjl5853@aol.com.
Please enable JavaScript to view this content.