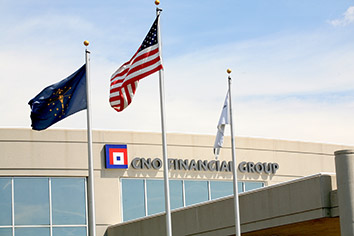 CNO Financial Group Inc. announced Friday that it will move from its longtime headquarters in Carmel to an office building about a mile away that it will share with Carmel-based OpenLane Inc.
CNO plans to move from its campus at 11825 N. Pennsylvania St. in early 2024 and lease about 100,000 square feet on two floors of the OpenLane building at 11299 N. Illinois St. OpenLane was known as KAR Auction Services Inc. until a rebranding last month.
CNO and its predecessor companies have been headquartered at the North Pennsylvania Street campus for nearly 35 years. The company traces its roots to 1979, when Stephen Hilbert and David Deeds founded Security National of Indiana Corp. The company changed its name to Conseco Inc. four years later and eventually grew into a Fortune 500 business and one of the state's largest public companies.
CNO employs about 1,100 people in Indiana and approximately 3,400 workers company-wide.
"As our workforce has evolved, so too have our workplace needs," CNO CEO Gary Bhojwani said in written remarks. "This new office space offers collaborative workspaces and amenities that support our business needs and enhance our associate experience. We are especially pleased to continue to call Carmel our corporate home, where we've had a longstanding history and deep roots in the community."
CNO's corporate campus encompasses 420,000 square feet across four buildings. CNO currently owns the property, but it has not made any decisions about its future and is exploring a variety of real estate options, according to CNO Director of Communications Valerie Dolenga.
The company said the new headquarters will support hybrid work and include amenities such as an employee health clinic, fitness center, cafe, conference facilities and outdoor green spaces.
OpenLane opened its $80 million, 250,000-square-foot headquarters in 2019.
CNO is the 13th largest public company in Indiana, recording $4.1 billion in revenue in 2021, according to IBJ research. Conseco was renamed CNO in 2010.
Please enable JavaScript to view this content.