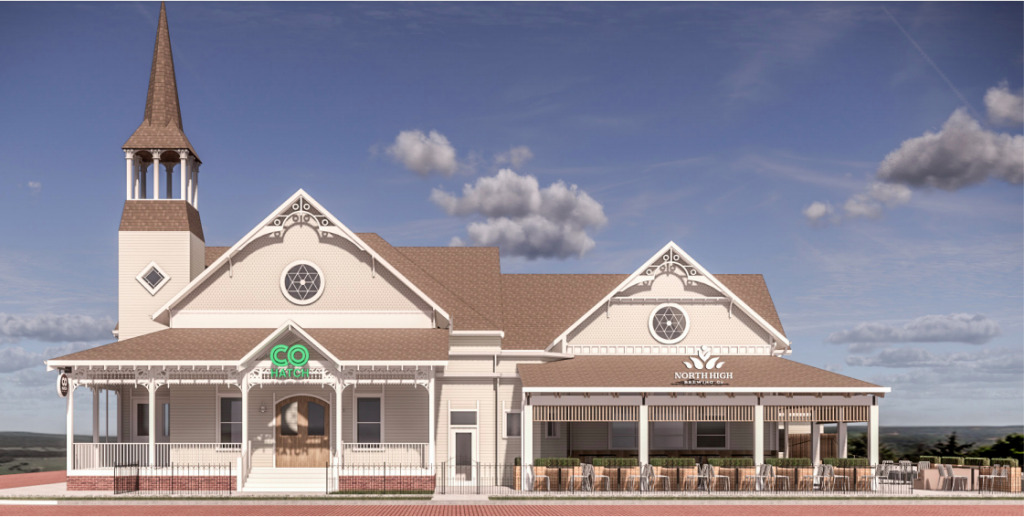 A 167-year-old church in downtown Zionsville that was most recently used as an art gallery and event space may find new life as COhatch's fourth coworking location in the state.
The Zionsville Board of Zoning Appeals met Wednesday to review Ohio-based COhatch's plans to redevelop The Sanctuary, at 75 N. Main St. in the downtown village. If approved, the more than $3 million project would feature approximately 7,383 square feet of coworking office space and an attached 123-seat restaurant called North High Brewing Co.
Michael Kosene, the property's owner, said his late mother, the famous artist Nancy Noel, put so much effort and money into restoring the building into a gallery and tea room before her death that he wanted to find a new user. The building has since been vacant for six years, and Kosene is now looking at redevelopment as a form of preservation.
Noel, who died in August 2020, spent more than $1 million to renovate the former Methodist church and occupied the building from 2006 to 2015 before moving her gallery to New York City.
"It has been dark hole on Main Street, frankly. I'd hate to see something happen to it after all of the love she put in," Kosene said. "I think this would be a great use, and the only possible way I can see right now of preserving that building."
COhatch launched in Columbus, Ohio, in 2016, and now has nearly 20 locations that have either opened or are in the works. In Indiana, the company has locations in Noblesville and Broad Ripple, and it's planning to open in the Circle Centre in downtown Indianapolis. The Broad Ripple location also occupies a former church.
Plans for the Zionsville location show room for coworking, a kitchen, five offices and a podcast room in the basement. The main floor includes a porch, three conference rooms, 10 offices, a 50-seat restaurant and bar, two kitchens and 73 seats for outdoor dining. Upstairs, there's room for another 10 offices.
As part of the proposal, COhatch co-principal John Watkins plans to collaborate with Zionsville-based coworking space operator zWorks to provide incubator and accelerator services to COhatch's members.
ZWorks Executive Director Vickie Hall and Board President Paul Dreier said conversations with COhatch are still ongoing. They indicated zWorks would continue to provide a consulting community for entrepreneurs, startups and small business owners with coworking, meeting room space and programming that provides business counsel and advice through various partnerships.
"We have an agreement in principal of how we would work together going forward, that would allow zWorks to focus on their mission of incubating new companies and accelerating existing companies in their growth," Watkins said. "We would be their real estate platform, their office platform, so that they could focus on the things they do really well."
The biggest concern about the project so far is the site's four allotted parking spaces. COhatch expects to have approximately 60 to 80 members, with a maximum of 30 members on site at any given time. That's in addition to the expected 40 to 50 restaurant patrons at lunch and dinner during the week, with more intense usage on the weekend.
Watkins added that there may be as many as 17 employees of COhatch and North High working at a given time. To accommodate the parking deficit, Watkins said he's coordinated a lease with the property owner at 75 S. Elm St. to use a gravel lot for dedicated parking. The plan is to pave and stripe the 23-space lot to eventually bring its total number of spaces up to 39.
Larry Jones, the board's chair, said the parking squeeze is a good problem to have; it demonstrates there's a demand for those businesses in the downtown. He and the other board members weren't immediately convinced the lot would work, so they approved a variance for the project that requires COhatch to secure another eight spaces downtown.
Jones said finding a new user for the building was preferable to tearing it down and building something new.
"You can grind that building up and put it in dumpsters real easy, and build a building on that site that meets all the parking requirements and strips all of the culture out of the town. That's the other option that's laying out there," Jones said. "But I don't think the town, the main street of Zionsville would be the same without that piece of real estate."
The board also approved a variance for outdoor seating for the restaurant component, which is expected to be busy when the office uses aren't.
"Seeing Zionsville would like to grow but also keep its quaint, boutique draw that is Zionsville—I think this is a wonderful opportunity," Kosene said.
Please enable JavaScript to view this content.