Leon Jackson's brainchild, a leadership development program for underrepresented groups, is up and running.
Jackson is Marian University's executive director of strategic initiatives, and the university launched his C-suite leadership development program in July. Four other large Indiana universities also have signed on to what Jackson called the state's largest university collaboration.
Ethnic minorities and women, with an emphasis on women seeking to re-enter the workforce after two or more years, can apply to the six-month, $15,000 Diversity in Leadership program.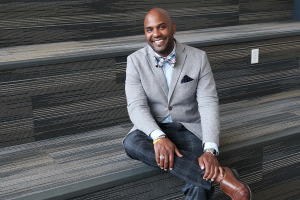 Students start with a week-long orientation. From there, they meet monthly for a series of three-day courses. Butler University's Lacy School of Business, Indiana University's Kelley School of Business on the IUPUI campus, the University of Notre Dame's Mendoza College of Business, and Purdue University's Krannert School of Management will each be hosting a course alongside Marian's Byrum School of Business.
The program, which welcomed its first cohort this month, was years in the making, going back to Jackson's own time earning a doctorate in workforce development and organizational leadership at the University of Nevada. Jackson joined Marian University in 2017 as a special projects director, the same year he began a master of business administration program at Notre Dame. Through Jackson's experiences with his own mentors, in conversations with the Notre Dame administration and in his role at Marian, the initiative slowly took shape.
Here's what he had to say about the program in an interview this week.
What needs did you and your partners identify that you thought this program could address?
It's really based on my experience during my doctorate program at UNLV [the University of Nevada, Las Vegas]. There was nothing that really addressed the need for the development of ethnic minorities and women, to prepare them for executive-level positions.
As I've gone along, you really see the impact of having a champion. … This individual named Dr. Ken Britt [senior vice president of strategic growth and innovation at Marian University], he really made it a point to reinforce my strengths, really support me personally and professionally, and he really drove me to push myself and try different things.
He really kind of served as a protector as well. So oftentimes when you're an ethnic minority or you're a woman, you don't have those kinds of people around. … It really said to me like, "Man, there are a lot of people out there who need this kind of support [and] who will never get this kind of support."
This program is designed to be that for others who don't have that environment or that culture at work. What we're trying to do is be a vehicle to help individuals who have aspirations for leadership to have real opportunities to step into their greatness, into their true skills and their talents.
So, it's for aspiring leaders, and those currently navigating difficult leadership situations?
When you see a lot of our counterparts, they fail forward, right? Something doesn't go well, they have friends and relationships that allow them to still take steps forward.
Oftentimes, what you see for ethnic minorities and women, they get one shot at leadership, and should you not succeed, that's held over your head the entire time that you're at that organization. Very seldomly are you given the support, the mentorship, the guidance, the access to the resources, the ability and leverage to pivot. You're kind of stuck in this box and they try to see if you can succeed in this box. And oftentimes, that box is not set up for someone to succeed, no matter what their capabilities are.
This program, again, is designed to take these projects and wrap the context of learning around it, so even if it doesn't turn out as great as we hoped it would, it was a learning experience. It was a growth opportunity rather than one shot at the opportunity to lead.
How long has this been in the works? Can you walk through the process of conceptualizing this project, bringing partners on?
We began this work in 2017. My first year [as a master's student] at Notre Dame, we'd have what was called dean roundtables, and they'd say, "How do we make Notre Dame better?" And my experience at Notre Dame was phenomenal, but we lacked in the area of diversity. The administration was very aware of it, and so I challenged them, like, "Hey, let's come up with a way to do better in the area of diversity." And it was born out of those conversations.
In 2018, 2019, we held two focus groups with local leaders from all different segments, all different industries, and from there, we began to glean what the need was. Why are there not as many ethnic minorities, women in executive leadership roles? Why do we not have more ethnic minorities and women CEOs, CFOs, chief strategy officers, chief marketing officers?
Indianapolis is primed to be an economic engine in the Midwest. And so we have companies coming. One of the areas that we just don't do as well in is not only developing and nurturing our own talent but keeping them here.
Oftentimes, ethnic minorities and women feel they have to go to Atlanta, they go to North Carolina or Texas, to have real opportunities to lead and grow professionally. What we want to do is show that Indianapolis, central Indiana is a great space to grow.
Because of where we're located and the growth that we're seeing, how can we be intentional about growing talent locally and attracting talent and keeping them here? It was pre-George Floyd, and I think that's very important to say, that this wasn't born out of a response to George Floyd's murder. It was something that we began putting together prior to that. The last year and a half, we began adding other universities to the partnership as well as bringing on other sponsors and things like that.

Can you outline the program and the purpose of each element?
Every institutional partner has the opportunity to facilitate a course on their campus. The first class is on data analytics. Really, it's how do you take raw data and turn it into something that you can use strategically? How do you break it down, parse it out so that you can pull essential information from the data? It's what data to collect, what data is relevant, when it may not be relevant. … Because data drives absolutely everything.
The second class that they'll have is about accounting and finance at Notre Dame. That's: how do you read a P&L [profit and loss statement], how do you understand a balance sheet, an income statement? How do you make strategic decisions based on the finances of the organization? Those two courses are especially important because, oftentimes, the areas that ethnic minorities and women lack are in those two spaces, along with strategy. That's what keeps us out.
You then have a class on leading change. … How do you work in an environment that is hyper-turbulent and ensure that your company and yourself are able to stay relevant and engaged and productive and profitable in that space? And how do you pivot, should you need to pivot?
The next class is leadership communication. … The last class is organizational strategy.
You then have an executive coach who is supporting you throughout this, who is going to push you and challenge you and really hold your feet to the fire in your development. You also do what's called peer circles, where you're working with colleagues who are also in the program.
And we do executive summits, where it's your executive coach, your supervisor, your H.R. professionals, and an executive in the company who sit down and say, "OK, what are Leon's strengths? What are his weaknesses?" … which is what Dr. Britt had done for me.
At the end, [students] will give a presentation on that project and say how they applied the concepts, tools, resources, frameworks, and then the outcome. And with that, they'll earn a certification in executive mindset. … It's helping students understand the pathway to executive leadership for them and then creating pathways so they can go to any of our partner institutions and receive discounted tuition, a streamlined admissions process and the removal of the GMAT and GRE requirements.
What sets this initiative apart from other local mentorship and development programs?
The partnership with the universities, Notre Dame, IU, Purdue and Butler, along with Marian, makes it the largest collaboration in the history of the state among universities. And it's really cool that they've come together for this purpose.
I think the other thing is just the desire not to compete. We're not competing with any other program. What we're looking to do is find ways to plug these individuals in. Universities are having challenges identifying Black and brown talent and getting them enrolled, and so we want to serve as a pipeline for them. We also want to serve as a pipeline for industry.
We have the talent here. We want to be a conduit [through] which talented people can get recognized and supported and get into the positions that they're ready for. Again, it's supporting central Indiana in talent acquisition and talent retention, and challenging companies to live up to some of those promises that they made after George Floyd's death.
We have an amazing city. I'm from Indianapolis. I love Indianapolis. … But the city becomes better—companies become better—when we have equity.
Currently, when we look at the landscape of leadership and people who sit on the different boards around the city, it's really the same one, two or three Hispanic people, the same one, two or three Black people, the same women, right? We have more talent to give. How do we make sure that we have more representation, and more people sitting at these tables? Not because we just need representation, but because these people are qualified.•
Please enable JavaScript to view this content.