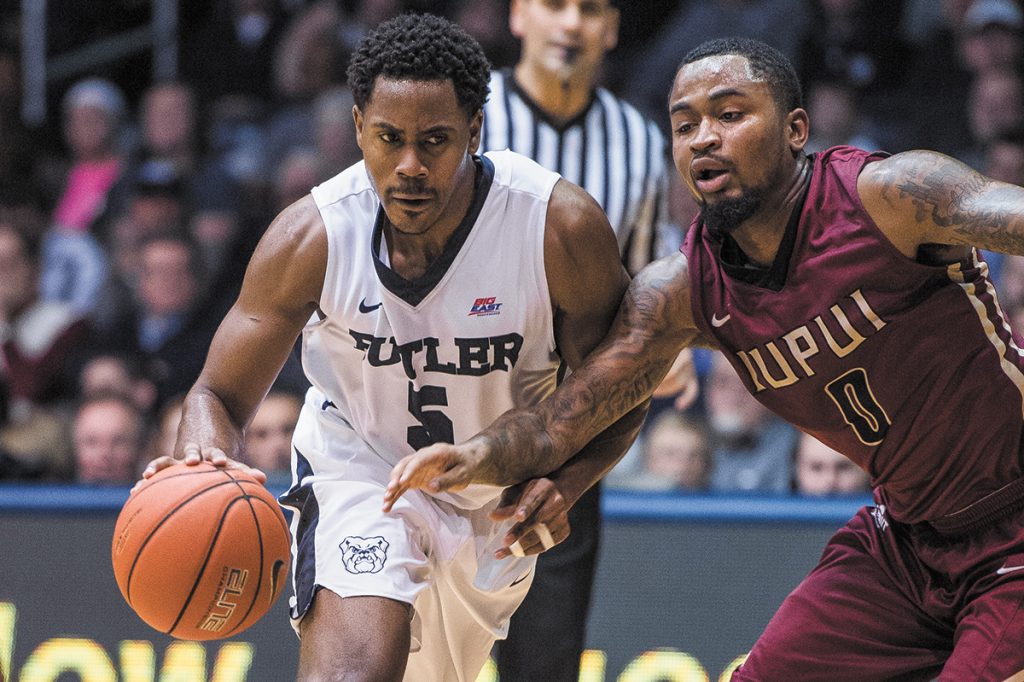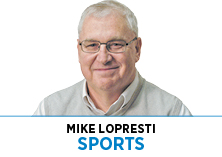 Know what the college basketball season has in common with the sale of Christmas decorations at your nearby Cracker Barrel? They both seem to come earlier every year.
So here we are with the Big Ten football championship game still more than a month away, and the first basketball games happen this very week. Time to inspect the 10 Indiana Division I team schedules for any quirks or oddities.
Purdue Fort Wayne
The Mastodons will hit the ground running. Come to think of it, could mastodons even run?
While we wait for the answer from the paleontology department, consider this: By the night of Nov. 30, the PFWs will have played 10 of their 31 regular-season games, nearly a third of their schedule. This saves time in January and February for travel, and it's a good thing in the Summit League, where the Mastodons have to play in such tropical winter paradises as Fargo, North Dakota, and Vermillion, South Dakota. The closest league opponent is Western Illinois, 327 miles away.
But the travel budget will get considerable relief next season when Purdue Fort Wayne joins the Horizon League, where it will be an average of 170 miles to every conference foe.
Ball State
This is the year of clumps for the Cardinals' schedule. Consider their home games against Division I opponents: All five come in 18 days, from Nov. 20 to Dec. 7. Later in the MAC season, they're home only twice in 31 days, playing six road games in that stretch.
IUPUI
The Jaguars might be the only team in America playing their season opener on the road—but traveling the exact same distance they would if they were opening at home. Huh? Well, IUPUI plays its home games at the State Fairgrounds, 5.7 miles from campus. But come Nov. 6, the Jaguars will be at Hinkle Fieldhouse to face Butler. That's also 5.7 miles from campus. This intra-city match hasn't happened since 2015.
"I know a lot of the guys on that team," Butler's Sean McDermott said of IUPUI. "Being so close, it's kind of a built-in rivalry. I think both sides are excited." History does not offer the Jaguars much comfort. They're 0-5 against Butler, and that last game in 2015 ended 92-54. But at least the trip home shouldn't take long. The Red Line Shootout?
Evansville
The Aces might be just across the Ohio River from the Bluegrass State, but they've never played the University of Kentucky. They will on Nov. 12, when Walter McCarty takes his team to Rupp Arena, to show his guys the 1996 national championship banner he helped win as a Wildcat. That's assuming they can find it among all the others hanging up there.
Let's just hope this goes better for Evansville than its last trip to a traditional blueblood's home. That was Duke, two years ago. It ended 104-40.
Indiana State
Pack your bags, Sycamores. Seven of the first nine games are on the road. By the end of the stretch, you will have played as many games in Dayton, Ohio, and one more in Bimini, than you will have played in your own gym. Then again, as the weather turns in November, where would you rather be—the Bahamas or Terre Haute?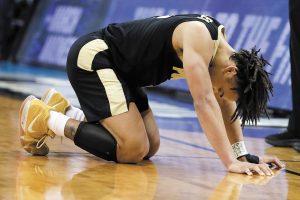 Purdue
How'd that Klingon saying (borrowed from Earth's literature) on "Star Trek" go? "Revenge is a dish best served cold." Or in this case, with a Mackey Arena hot dog. That'll be Dec. 4, when Virginia visits Purdue. You do remember how the Elite Eight game last spring ended for the Boilermakers, right? That overtime escape act in Louisville—in an arena laden with Purdue fans, and the nets smoking from Carsen Edwards' 42 points—sent Virginia to the Final Four and eventual national title, and sent the Boilermakers home with an anguishing case of the what-ifs.
That's why the folks who schedule the Big Ten/ACC Challenge had to positively giggle when they put this game on the docket, envisioning the fire the Paint Crew will be breathing in Mackey. Ah, but Edwards is gone and so are Virginia's top three scorers, and the survive-and-advance urgency of March 30 will not be on the table. Still. "It will be unbelievable. I hope we play unbelievable," Matt Painter said.
"I think we went there for the Elite Eight game. Wasn't that in Mackey Arena?" Virginia Coach Tony Bennett said, remembering the Boilermaker noise in Louisville, which was plenty loud, but will be violin music compared to what he and his team will hear Dec. 4. "That's intense. That's a different deal. I have a feeling they're going to be really motivated for that game."
Butler
Note, please, the Bulldogs' home winning streak against non-conference opponents. A nice, round 50, going back to 2012. Now, take a look at this season's non-conference schedule. Oh-oh. Minnesota on Nov. 12, Florida on Dec. 7. If that streak is still alive by then, it will be the hard way. Minnesota hasn't been to Hinkle since 1973, Florida never. But the Bulldogs and Gators played twice last season. Better to remember the meeting in the Battle 4 Atlantis—Butler, 61-54—than the Bulldogs' trip to Gainesville. Florida, 77-43.
Notre Dame
The ACC expanded to a 20-game league schedule this season, and also wanted a telegenic start for its new network, with conference games as season openers. That means the Irish open play not with nice, beatable Appetizer U., but North Carolina. In Chapel Hill. And cramming in all those league games means Notre Dame has this lovely nine-day ordeal in February—at Clemson, at Virginia, at Duke, home to North Carolina.
A tough road for the Irish, and just when Mike Brey has grown so disturbed about missing the NCAA Tournament in consecutive years, he banned china at last season's team dinner. "We used paper plates and that was our banquet and we didn't invite anybody," he said. "We kind of circled the wagons and tried to set the tone."
Valparaiso
The Crusaders will be in North Little Rock on Dec. 21 to play Arkansas for the first time in history. Might as well finally get around to the Razorbacks. They have already played Arkansas State, Arkansas Fort Smith, Arkansas Little Rock, Arkansas Pine Bluff, Arkansas Monticello and, of course, Arkansas Agriculture back in the 1920s.
Indiana
No hurry having those red road uniforms cleaned and ready for the season. The Hoosiers' first eight games are in Bloomington, so Indianapolis fans with IU tickets will get a full dose of the pleasures of driving State Road 37, wondering where the construction might be. The Hoosiers have only two true road games before Jan. 15, and they don't even have to play at Michigan State this season, which is like missing a trip to the dentist.
In other words, if the Indiana record is a disappointment, don't blame the schedule.•
__________
Lopresti is a lifelong resident of Richmond and a graduate of Ball State University. He was a columnist for USA Today and Gannett newspapers for 31 years; he covered 34 Final Fours, 30 Super Bowls, 32 World Series and 16 Olympics. His column appears weekly. He can be reached at mjl5853@aol.com.
Please enable JavaScript to view this content.