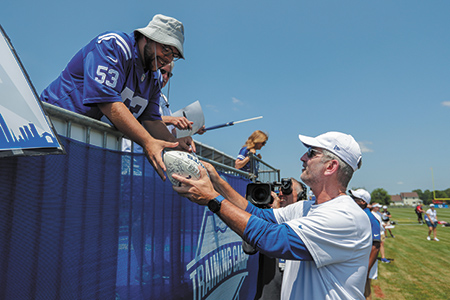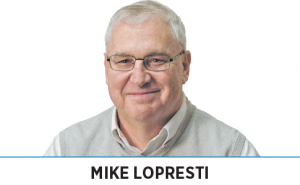 This must be said about the NFL. It can market anything—even hot August days in the sun, watching guys hitting tackling dummies.
Ah, the steamy pleasures of training camp. You can sit in a beer garden at the Rams' facility in Irvine, get a look at six Super Bowl trophies at the Patriots' place in Foxborough, pick up a dog on pet adoption day at the Chargers' compound, or put your name on the waiting list for the sold-out Seahawks camp. To see the Cowboys train, you can go to Oxnard, California, nearly 1,500 miles from Dallas. Then again, the Packers have been gathering at St. Norbert College since 1958. It's only five miles from Lambeau Field. You can watch the players ride to practice on children's bicycles in a Green Bay August tradition.
Or you can spend a day at Grand Park Sports Campus in Westfield and watch the Colts go at it. Last Sunday, for instance. If the road to the Super Bowl indeed starts amid soybean fields in Hamilton County, why don't we spend a day to see what it's like to watch?
1 p.m. The line at the gate is as long as a good Andrew Luck passing day. Say, 250 yards. The Westfield volunteers are in green, a good many of the fans are in blue. They paid $5 to park and nothing to get in. A bargain for all. That includes the man wearing shoulder pads with his head painted blue and white. He probably didn't just come from church.
First stop, Colts City. You can get timed in the 40, play orange pylon bowling with a football, take a picture of your child picking up a barbell with massive weights—made of Styrofoam, or something. You can catch a punt. Maybe. A worker is feeding footballs to the punt machine. "Are you a Colts player?" a kid asks. Well, no. A father seeks to show his son how to correctly field punts. He stands, waits for the next ball to sail his way from the machine and—PLOP!—takes one right in the face.
There's a merchandise shop, of course. Buy two items, get the third free. And a board that shows you Darius Leonard's arm length is nearly 2 inches longer than Andrew Luck's.
Next is the Mom Mobile, a trailer for nursing mothers. Here's the thing about training camp: It's about the team cutting its roster, sure, but this while the franchise seeks to build its fan base. That means families. Game ticket prices might make them gag, but this is their chance. The kids are here in strollers and carried on fathers' shoulders. One little boy with a broken leg is rolled toward the practice field in a wheelchair, his arms around a newly purchased football.
Walk past the trees, and there are the practice fields. No VIP Suite ticket? You can pretty much forget any shade, then, except one tent. The grandstands are on the west side, the standing room on the east. Some bring their own cover from the sun, and the thought occurs that, given the roof 30 miles away at Lucas Oil Stadium, training camp is the only time all season a Colts fan requires an umbrella. Not to mention sunscreen.
Autographs usually come after practice, but defensive end Kemoko Turay ambles over to the fence to sign a few beforehand.
"How many sacks you going to get this year?" one fan asks.
"Double digits."
Meanwhile, the temperature has hit the mid-80s.
2 p.m. The horn blares for the start of practice. The camera lifts go high into the air. The background rock music blares, and it will never stop.
The east side has no seats, but from the standing area, you can almost reach out and touch the tackling dummies the defensive linemen are banging on, under the watchful eye and energetic voice of DL Coach Mike Phair.
"Low always wins!"
"Show 'em how it's done!"
Ten feet away from this pounding of huge NFL athletes, a little girl in a white cheerleader uniform with a blue horseshoe on the back holds a tray of nachos. That's training camp.
2:45 p.m. While the offense and defense run drills on field 2, with thousands watching, a man on the next field south has the place nearly to himself, kicking one field goal after another toward the parking lot. Cole Hedlund is in camp seeking a job … somewhere. Probably won't be here, since he'll likely be waived one day faster than you can say Adam Vinatieri. But he's working hard to get someone else to notice.
Meanwhile, back on field 2, the quarterbacks are in red. No. 7, Jacoby Brissett. No. 5, Phillip Walker. No. 6, Chad Kelly. But where's No. 12? No Andrew Luck, again. Something about his calf.
A father tells his kids that, if they all chant together, maybe T.Y. Hilton will notice them, even in the middle of drills. "T-Y! T-Y! T-Y!" is the family chant. Hilton turns and waves. Victory for dad. A few minutes later, Hilton breaks free for a long touchdown pass, and slaps hands with onlookers leaning over the fence on the south end. Loudest cheer of the day.
And why is there such a huddle of fans grouped together on one section of the fence? The camera platform is throwing off shade. Best standing-room spot in the house.
3:30 p.m. The heat is starting to take its toll, as some patrons stream to the parking lot. Others rest at the picnic tables under the big tent next to Colts City. A mother with three kids comes out of the Mom Mobile.
But there is still a healthy crowd hanging in for the last half hour of practice. A big reason: autographs. It's Fan Appreciation Day, the announcer reminds the crowd, meaning nearly the entire team will be signing.
4:15 p.m. Practice is over and the masses have moved to the edge of the fences, leaning forward to get signatures as the players go by. Hilton is the hot item.
"You made my day," says one fan.
"If I draft you No. 1 in my fantasy draft, will you sign this?" asks another.
There is a county fair ambience to it all. An intimacy that will be gone, come September. The NFL sells it, the fans love it, and the team seems to enjoy it. As for the coaches, working with civilians looking over their shoulders? For example, the defensive line coach exhorting his troops, while a little girl looks on nearby with her nachos?
"I don't even know they're there," Phair says on the field after practice. "I don't even see them. It wasn't always like that. You had to kind of, like, train yourself. I used to worry about who's there. Not anymore. I let it go."
The crowd begins to melt away to air-conditioned vehicles in the parking lot, and the long day in the sun ends. A father walks off with his son, maybe 10. "Dad," the boy says, his helmet full of signatures, "there sure are a lot of football players on this team."
It's training camp.•
__________
Lopresti is a lifelong resident of Richmond and a graduate of Ball State University. He was a columnist for USA Today and Gannett newspapers for 31 years; he covered 34 Final Fours, 30 Super Bowls, 32 World Series and 16 Olympics. His column appears weekly. He can be reached at mjl5853@aol.com.
Please enable JavaScript to view this content.