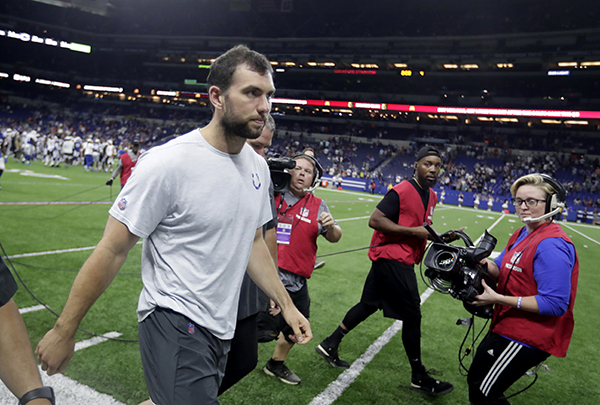 In a shocking development for the Indianapolis Colts, quarterback Andrew Luck announced Saturday night that he is leaving football due to persistent injuries and pain.
"I'm going to retire," the 29-year-old Luck said after the Colts' preseason loss to the Bears. "This is not an easy decision. This is the hardest decision of my life. But it is the right decision for me."
"For the last four years or so, I have been in this cycle of injury, pain, rehab," said Luck, who when healthy is considered among the top five quarterbacks in the NFL. "I've felt stuck in it. This is the only way I see out."
"It has taken my joy of this game away," he said, choking back tears.
ESPN senior writer Adam Schefter broke the story on Saturday night based on information from an unnamed source, who said that Luck already had met with team owner Jim Irsay about his intention to retire.
Luck has complained of calf and ankle pain in the preseason and has practiced sparingly. He has not played in any of the preseason games.
He is walking away from approximately $60 million in potential salaries and bonuses under his current contract, plus perhaps hundreds of millions of dollars in prospective future earnings if he does not return to football. But he already has made about $97 million in estimated career earnings.
Ian Rapoport of the NFL Network said on Twitter Saturday night that Luck's love for the game had waned.
The #Colts have known that QB Andrew Luck was seriously mulling retiring for at least two weeks. He's married, he plans to travel the world, and once the love for the game waned, it sounds like he wanted to step away. So, he did.

— Ian Rapoport (@RapSheet) August 25, 2019
The news hit just as the Colts were wrapping up a preseason 27-17 loss to the Chicago Bears. Some media in attendance reported that the crowd was booing, seemingly at Luck on the sidelines.
Fans, seemingly, are booing Andrew Luck as he walks off the field. Tons of cameras following him.

— JJ Stankevitz (@JJStankevitz) August 25, 2019
Andrew Luck gets booed walking off the field as fans learn about his reported retirement

(via @RichNye13, h/t @brgridiron)pic.twitter.com/vbks2IIUe9

— Bleacher Report (@BleacherReport) August 25, 2019
"I'd be lying if I said I didn't hear it," Luck said of the boos. "Yeah, it hurt."
Colts General Manager Chris Ballard said that Luck had begun discussing his retirement with the team on Aug. 19.
"For those people that booed tonight–this is an emotional night, I understand that," Ballard said. "This young man did a lot for the city of Indianapolis. Nobody died, and we'll keep moving forward. We'll make this city proud."
After not playing in 2017 due to injuries and surgery on his throwing shoulder, Luck returned last season and led the Colts back to the playoffs for the first time in four years, winning the league's Comeback Player of the Year award.
But in March, he suffered a strained left calf, was held out of all of the team's offseason workouts and returned on a limited basis for three practices at training camp in July. Lingering pain forced him back to the sideline and the Colts later determined that he had an injury near the back of his left ankle.
Coach Frank Reich had said he hoped to have an answer about Luck's availability for the Sept. 8 season opener after the third preseason game.
"There's no doubt when you hear [Luck] talk about the cycle of pain and injury and rehab, you can hear that," Reich said Saturday night. "There's a saying in football that everyone knows and everybody lives by, it's next man up and even though this situation is unique, no one is exempt.
"Teams win, don't write the end of the story yet. "I'm telling you the story's not over yet."
Colts backup quarterback Jacoby Brissett, who also didn't play Saturday, is expected to take over as the starter of a team that some had pegged as a contender for the Super Bowl. The Colts acquired Brissett from the New England Patriots in a cutdown weekend trade two years ago.
He went 4-11 as a starter in the 2017 season after taking over for opening day starter Scott Tolzien.
"We're not going to ask Jacoby Brissett to be Andrew Luck," Ballard said. "Jacoby Brissett is a rare, rare leader. He is. He's a rare human being."
Irsay seemed to want to keep the door open for Luck to return.
"I don't rule it out," Irsay said.
Irsay once predicted that the Colts would win multiple Super Bowls with Luck as their quarterback. They have fallen short of that if Luck indeed remains retired. Even so, Irsay said the Colts felt "nothing but gratitude and thankfulness" toward Luck.
"Part of our heart is broken tonight," Irsay said. "But we know we must go forward."
Please enable JavaScript to view this content.