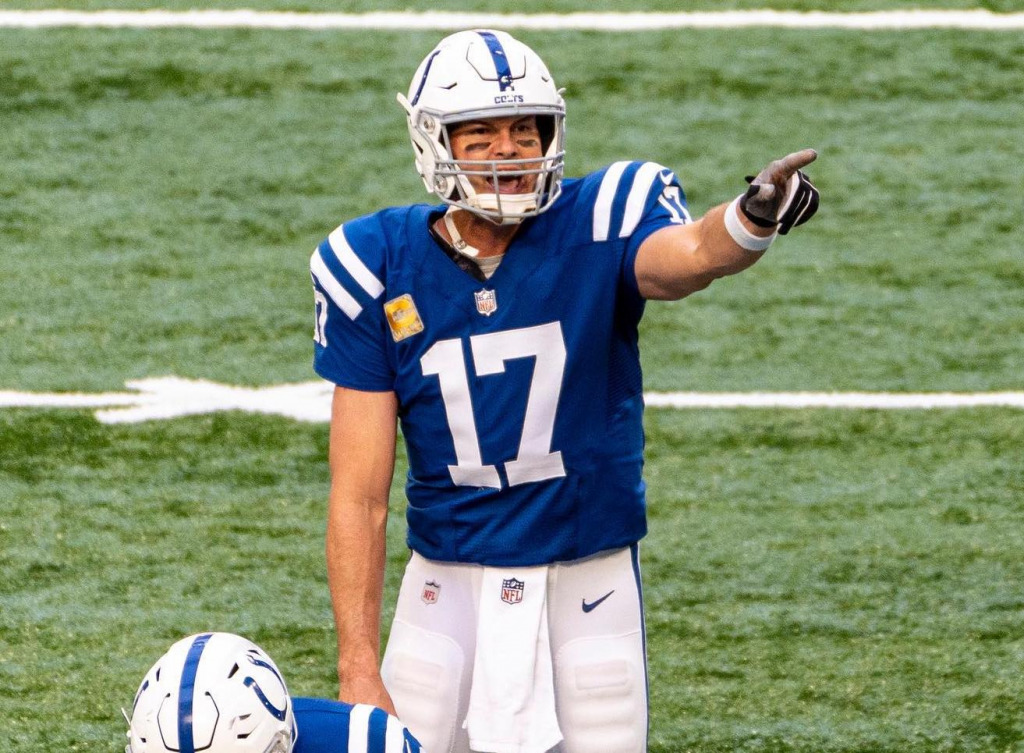 Indianapolis Colts quarterback Philip Rivers on Wednesday will announce his retirement from the NFL, after 17 seasons in the league.
Rivers joined the Colts ahead of the 2020 season after 16 years with the San Diego/Los Angeles Chargers franchise and led the team to an 11-5 regular-season and wildcard playoff berth.
The San Diego Union-Tribune first reported the news, and IBJ has confirmed it with a Colts source.
Rivers, 39, plans to become head football coach at St. Michael Catholic High School in Fairhope, Ala.
Indianapolis Colts General Manager Chris Ballard will look for a potential long-term successor for Rivers, who ranks fifth on NFL career lists for completions (5,277), yards passing (63,440) and TD passes (421). He has started 252 consecutive games, including the playoffs, in a streak dating back to the 2006 season.
Rivers' one-year deal is expiring and Jacoby Brissett appears likely to leave in free agency after being demoted from starter in 2019 to backup last season. That leaves Jacob Eason, a fourth-round draft pick in April, as the only Indy quarterback under contract.
Rumors have swirled for weeks about possible trades, including for Carson Wentz, who Reich coached in Philadelphia. Others think Ballard will take one of the five quarterbacks projected to go in the first round in April. Indy has the No. 21 selection.
Rivers got off to a slow start with the Colts but played better as the season went on, which might have been expected because he joined a new team and had almost no offseason work with his new receivers due to the COVID-19 pandemic. Through Indy's first five games, Rivers threw five interceptions and four TD passes. Over the final 12, he had 22 TD passes and six interceptions.
He played the final seven games with an injured toe on his right foot.
Rivers finished 2020 with the second-highest completion percentage of his career (68%) while leading the Colts to their second playoff appearance since 2015.
Rivers released the following statement Wednesday morning:
"Every year, January 20th is a special and emotional day. It is St. Sebastian's Feast day, the day I played in the AFC championship without an ACL, and now the day that after 17 seasons, I'm announcing my retirement from the National Football League. Thank you God for allowing me to live out my childhood dream of playing quarterback in the NFL.
I am grateful to the Chargers for 16 seasons, and the Colts for the 17th season.
Thank you to all my coaches that helped me grow as a player and person.
Thanks to the support staff.
I appreciate the opposing defenses making it challenging physically and mentally every week… I also enjoyed the banter.
I appreciate the referees for putting up with all my fussing. I think I was right most of the time dadgummit!
Thanks to the fans in San Diego and around the nation that both cheered and booed.
Special thanks to my teammates. Without a doubt my favorite part of the game, being a teammate. Thank you for being mine.
Lastly, thank you to my wife and best friend Tiffany, and our children Halle, Caroline, Grace, Gunner, Sarah, Peter, Rebecca, Clare, and Anna. Could not have done it without y'all's unwavering support.
As my playing career comes to an end , the next chapter begins."
In the 2006 season opener, Rivers made his starting debut—and then the next 251 in a row including the playoffs. Nothing kept him out—not the awkward mechanics, not the critics who thought he should retire after his final season with the Chargers, not even the torn anterior cruciate ligament he suffered against the Colts following the 2007 playoffs.
His 240 consecutive regular-season starts was the second-longest streak since 1970, trailing only Brett Favre (297), and it was one of the few stats Rivers cherished.
"It's certainly important to me and I'm thankful that I've been healthy enough to be out there," Rivers said in November. "I do think there is something about that availability, being there each and every week."
He was more than just dependable, too.
Rivers won 134 career games—No. 2 among quarterbacks without a Super Bowl ring—and was eighth all-time. Only Tom Brady (230), two-time Super Bowl champs Peyton Manning (186) and Ben Roethlisberger (156), Brees (172) and Hall of Famers Favre (186), John Elway (148) and Dan Marino (147) won more regular-season games than Rivers.
He finished his career as the Chargers' franchise record-holder in every major passing category.
Please enable JavaScript to view this content.